Latest posts by Mark Spera
(see all)
Ecommerce website builders are a must for businesses today.
After all, thousands of retailers are expanding their online presence.
Lower overhead costs, no rent to pay, and you can sell from your couch in your PJ's. Win, win, win.
There's a boom in the ecommerce business right now, too. From handmade products in Etsy shops to t-shirt dropshipping to Instagram influencers to major goods from international merchants, everyone is selling online
While there are plenty of drag-and-drop website builders, ecommerce businesses have specific requirements that not all of them can meet.
What is an Ecommerce Website Builder?
An ecommerce website builder is a platform that retailers use to configure their online store.
It can improve your sales, help strengthen your understanding for your customers, and simplify your daily operations.
The right site can grow your audience from nonexistent to flourishing.
How do I Use an Ecommerce Website Builder?
You use an ecommerce builder to create your online store—pretty simple. There are a few main reasons why so many major retailers use an ecommerce website builder.
1 – Save Money
At a very basic level, you'll use an ecommerce website builder to configure your store. Using a builder is a great alternative to a custom website, and it's a lot more cost effective.
2 – Save Time
The best ecommerce website builders have an easy-to-use, drag-and-drop interface that allows you to create impressive websites in very little time. It also allows you to make changes to your website on the fly.
3 – Customizations
With an ecommerce website builder, you have complete control over the look and feel of your online store. Most builders come with preset templates that you can customize, or you can design something from scratch. You can play around with colors, fonts, logos, icons, images, and more.
The Best Ecommerce Website Builders
To rank the best ecommerce website builders, I looked at ease of use, available features, and price. Here's how my top 5 stacked up:
About:
Founded in 2006, Wix is a cloud-based web development platform. While the beta version of this web builder came out as an Adobe Flash-based platform, the company has since upgraded to an HTML5 site builder.
You can create web and mobile sites from scratch or use easy-to-edit templates. The site provides graphics in its image galleries along with vectors and animations to make your site look awesome, even if you don't have graphic design skills yourself.
Third-party application integration makes it easy to add photo feeds, blogs, and music playlists as well as develop an online community, email marketing, and file management.
Due to Wix's freemium business model, you can test out the web builder without making a big investment. You can also take advantage of premium services like custom domains, a form builder, removal of advertising, and additional storage and bandwidth.
Ease of Use:
Easy drag-and-drop and website building tools
Convenient social plugins
Integration available for third-party applications
Customizable mobile site for optimal viewing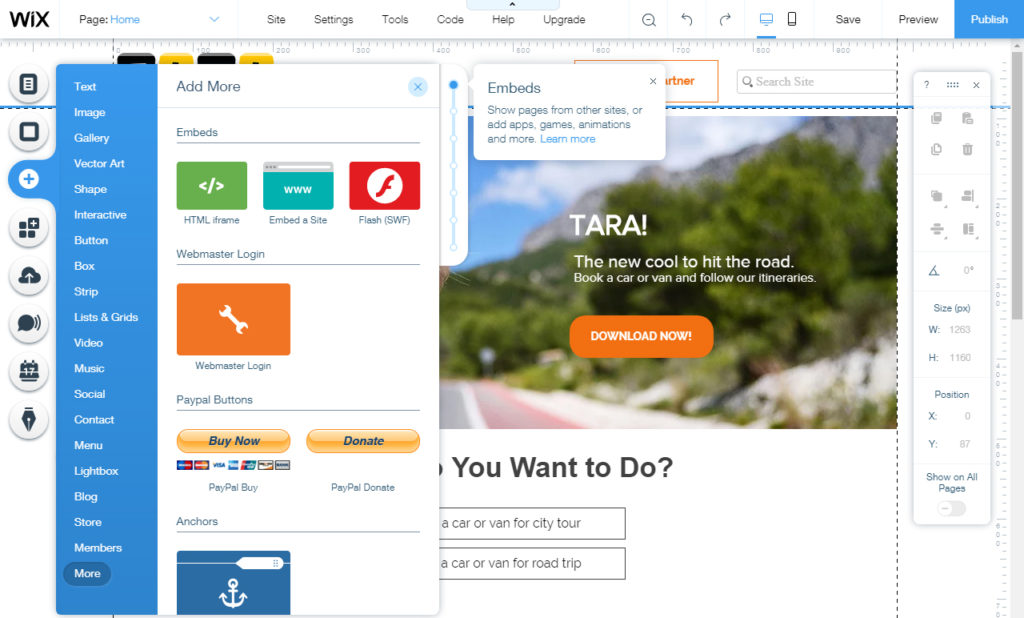 Features:
Specific ecommerce tools
WixHive API, which allows WIX apps to capture and share visitor data
Ecommerce capabilities
Logo maker application
Price:
Best value with plans starting at $4 a month
Ecommerce plans only a little more than $16 each month
Bottom line:
At such an affordable price, there is no excuse to not get your ecommerce site up and running with Wix. It's an intuitive builder that allows you to create a unique and engaging online storefront.
About:
Squarespace started in 2004 and now hosts more than a million sites. This American company is one of the most senior in the market.
Whether you are looking to just dump content and products into one of its pre-made templates or want to customize your site with drag-and-drop widgets and other features, the Squarespace web builder is all about convenience and creative control.I find the grid-based user interface particularly useful when aligning content and site features.
Competing with domain registers like GoDaddy, Squarespace makes it easy to select and purchase a custom domain name to fit your fitness.
Squarespace also helps you grow your ecommerce business with on-screen search engine (SEO) optimization instructions.
The ecommerce features SquareSpace offers include label printing and real-time carrier shipping information.
Ease of Use:
Easy drag-and-drop and website building tools
Pre-built and custom website templates
Unlimited storage even on the lowest plan
Features:
Integration with Google Apps for Work and Getty Images
Integration with PayPal and Stripe
Ecommerce tools
Dashboard of analytics
Partnered with Noun Project, a logo-creation app
Price:
Pricing for commerce plans are $26 a month but billed annually
Business plan only permits 20 products while commerce plans can sell unlimited products
Bottom line:
The ecommerce features Squarespace offers make setting up an online store ⁠— as well as running it ⁠— simple. The site builder is easy but can require some patience when customizing the overall appearance.
The limitations of the platform are only really noticeable to larger businesses with specific and unique shipping needs.
About:
Since 2006, Shopify has simplified the process of running an online store for small merchants and is now a major platform.
In fact, Amazon selected Shopify as its preferred migration provider when it closed its merchant webstore service. Brands like Tesla Motors, Red Bull, and even the New York Stock Exchange rely on Shopify's services.
The ecommerce web-building platform focuses on sales-specific controls on payments, marketing, shipping, and customer engagement tools.
One of the ways that the company does this is with easy point-of-sale options. Shopify Payments allows merchants to accept credit cards without a separate payment gateway, so customers never have to leave your site
If your ecommerce store also has a brick-and-mortar location, then you can use their iPad-based POS system, which is a Bluetooth-enabled debit and credit card reader similar to Square. Their POS system also has a tappable chip reader.
The application programming interface (API) also allows developers to create applications for Shopify online stores and then sell them on the Shopify App Store. This means that there are plenty of apps and plugins available to you, and there are always more in development.
Ease of Use:
Diverse and plentiful payment options
No third-party payment gateway
Gives SKU codes to each product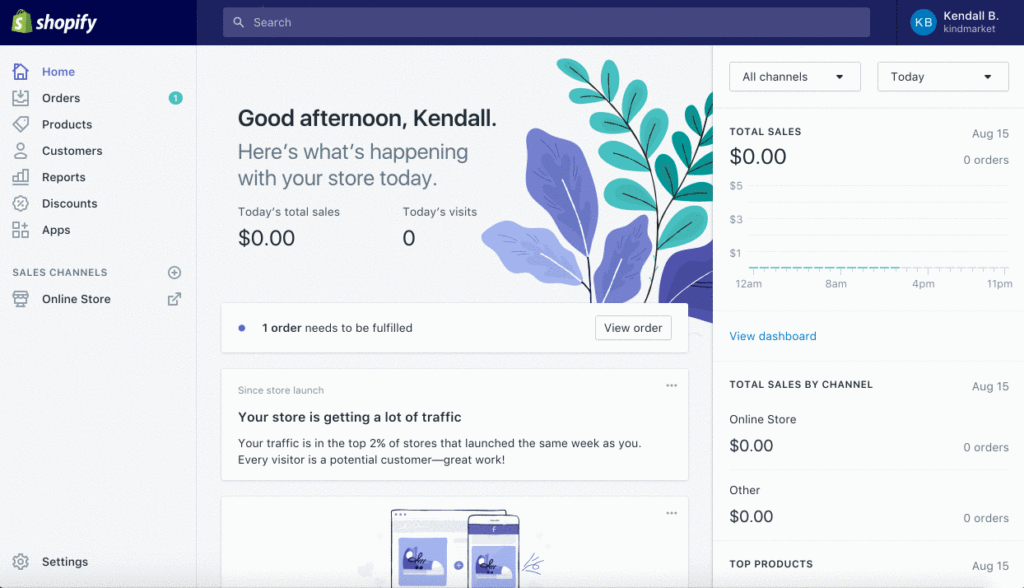 Features:
Dock and Retail Stand
Shopify Studios, a full-service TV and film content and production house
Integrates with Snapchat, Facebook, and Google directly
MailChimp
Price:
Basic plans start at $29 each month while the Professional plan is $79 a month
Fully hosted and includes server maintenance costs
Bottom line:
Shopify is a leader in the ecommerce industry. Websites with ecommerce capabilities are easy to set up quickly, allowing you to start making revenue the same day.
With numerous apps to satisfy many business needs, you can use the platform to automate many of your routine operations. Shopify also provides quality customer service and a technical support team that operates 24 hours a day.
About:
Although Weebly started in 2006, Square, Inc. bought the American web-hosted platform specifically oriented for online shopping in 2018. Now, it also goes by the name Square E-commerce.
Weebly's platform is one of the simplest to use and easiest to navigate for the less tech-savvy. With more than 70 diverse templates, you can select the option that fits your customer's needs and then customize it further with drag-and-drop tools.
Some of the best features Weebly offers are those that concentrate on monetization. For instance, you can incorporate advertising with built-in tools instead of buying a separate platform.
From your phone, you can monitor your website traffic statistics and respond to comments as well as a post and update products.
Ease of Use:
Widget-based, drag-and-drop site builder
Automatically generates a mobile version
Phone app has many functions
Perfect option for beginners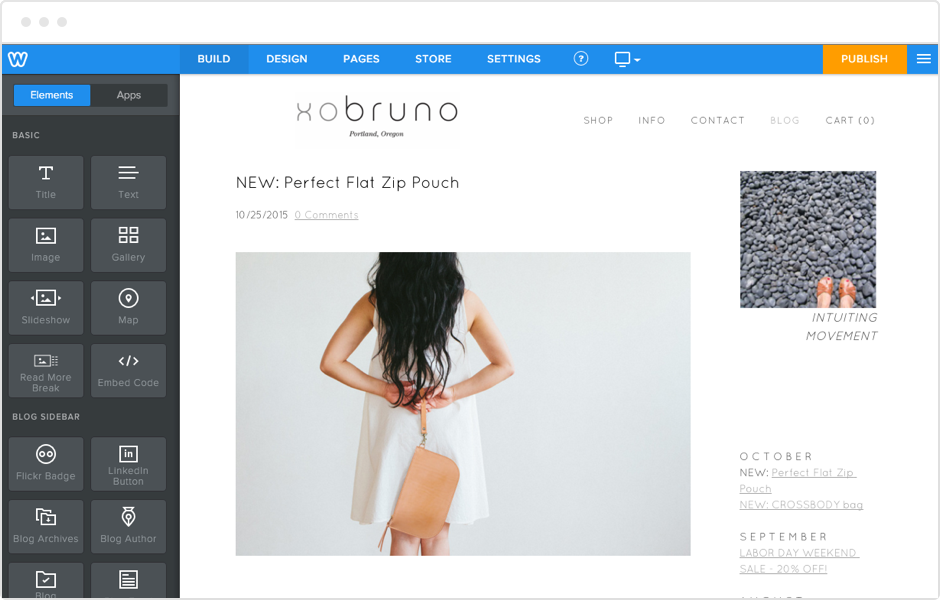 Features:
Google AdSense and Google Analytics
Weebly 4 and Weebly Promote, which are integrated marketing tools
Integration with PayPay, Stripe, and Authorize.net
Available in 15 languages
Price:
Starts at $8 a month and include a free custom domain
Premium plans also include Google advertising credits
Bottom line:
Weebly is incredibly easy to use and an ideal platform for small and mid-sized ecommerce businesses that would rather spend time selling than setting up a website.
In addition to being a great option for getting your e-commerce biz up and running in a short time, Weebly's integrated Google apps help you have a greater understanding of your customers and how to market to them.
About:
Although one of the newer site builders, BigCommerce is a big competitor since its founding in 2009. The American company has a software-as-a-service (SaaS) ecommerce platform that serves major brands like Hess, Camelbak, Ben & Jerry's, and Skullcandy.
BigCommerce's infrastructure is Google Cloud-based and uses faceted search techniques, which involves expanding traditional search methods with a navigation system that allows users to narrow search results by applying multiple filters based on the classification of items. This makes it easier than ever for customers to find the product they want.
BigCommerce also allows you to create coupons and discounts. Your customers can even pay with digital wallets such as Apple Pay, Amazon Pay, and PayPal One Touch.
Similarly, the platform integrates with the marketplaces where your customers shop, such as Amazon, Google, and eBay.
You can easily import product information if your ecommerce is already listed on a different platform.
Ease of Use:
Customization available for themes, checkouts, and mobile sites
Able to be up and running in less than a day
Best option for multichannel and cross-channel commerce
Best option for international ecommerce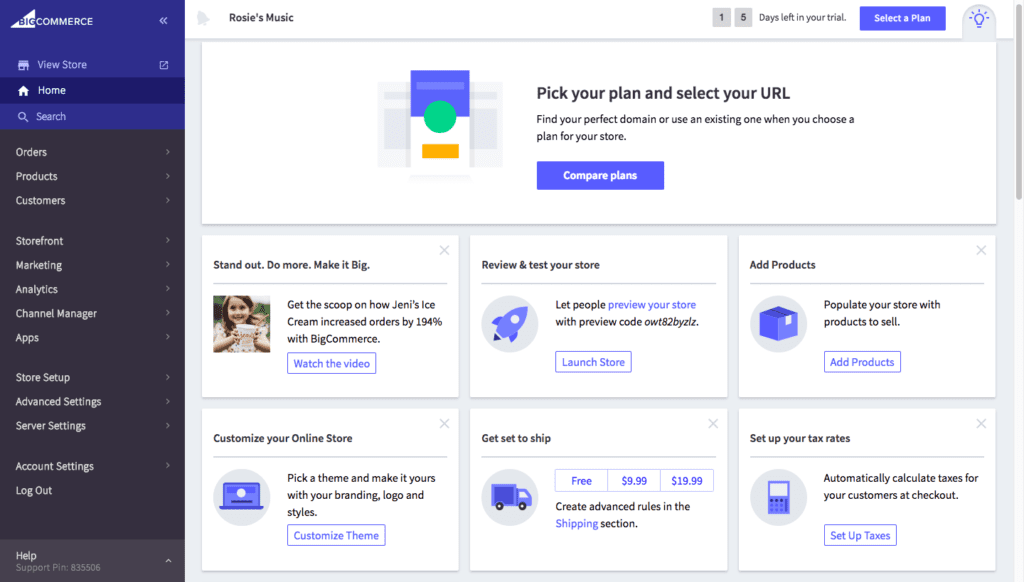 Features:
Integration with WordPress, Facebook, Pinterest, and Instagram
Built-in Akamai image manager
Springboard Retail POS system
ShipperHQ for accurate shipping rates
Price:
Prices start at $29.95 a month
Growth of online sales with 80% less cost and time
Bottom Line:
BigCommerce is ideal if your customer base is worldwide. The platform's services make it extremely easy to quote cross-border shipping as well as translate product information into any language.
If you run a business-to-business ecommerce company, then you'll love the B2B functions BigCommerce.
Conclusion
Each one of these ecommerce website builders can help you sell your products online, and fast. In our opinion, Wix offers the best drag-and-drop interface, integrations, and marketing features for a good price.