Latest posts by Mark Spera
(see all)
A landing page is just what it sounds like. It's a web page designed for a specific marketing purpose. A landing page can be used to:
Explain a product release or new company (a "launch" page)
Capture email or phone leads to sell a product
Advertise an upcoming webinar
Run Google Ads or Facebook Ads by creating contextual, optimized landing pages that are synced to the post-click experience.
Run a minimum viable test on a product or service — landing pages allow you to spin up pages fast and gauge audience reaction to an offering
Or simply tell your customers about some element of your offering that takes a little explanation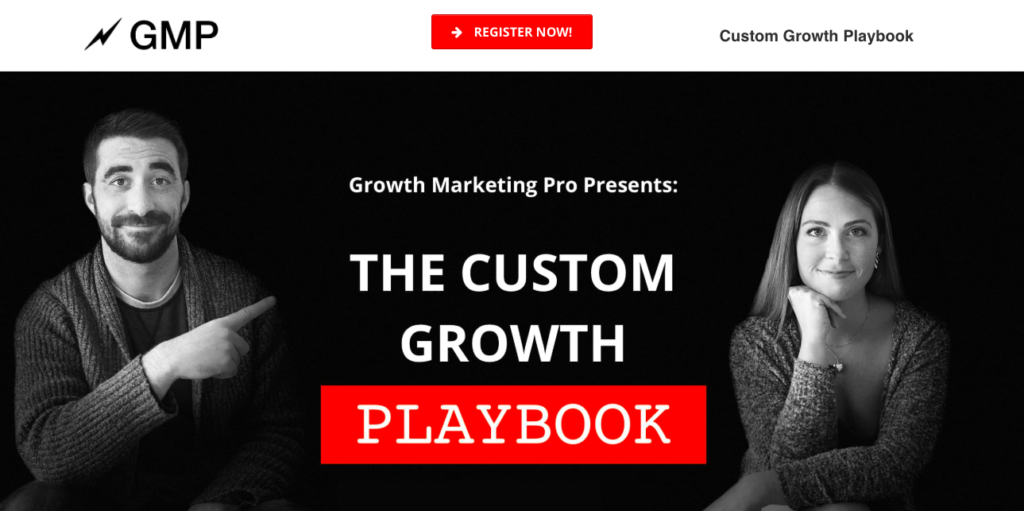 Why are landing pages necessary?
A website's homepage is often insufficiently built for converting web visitors into customers.
Homepages are filled with distractions and multiple calls-to-action.
Whereas, a landing page often only contains one link that drives a sale, captures emails, or serves some other marketing goal.
Do I need a tool to make landing pages?
Yes.
A landing page creator (also called a landing page software) makes it super easy to build landing pages without writing code.
Landing page creators are great for small and medium-size businesses that want to cover a lot of ground with one tool. For digital marketers, it is a standard tool in the kit.
If you're ready to find the right one for you, read Top 10 Landing Page Software Tools.
What's so great about landing page creators?
Front-end web development requires skills in writing code that many businesses and marketers are not specialized in.
With landing page builders, it's fast and easy to make landing pages that convert web traffic into leads, all without writing a single line of code.
Any good landing page creator utilizes a drag-and-drop user interface, so all you have to do is move a mouse and type.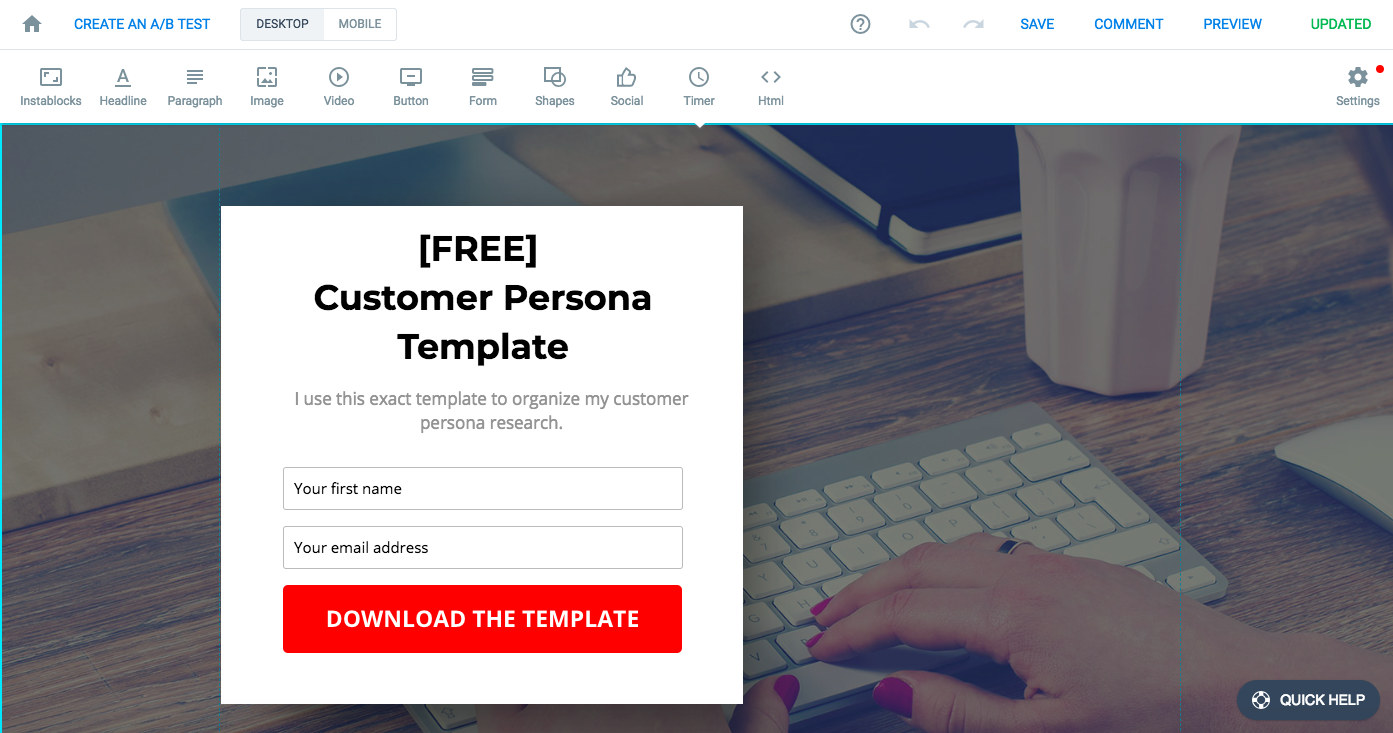 The best landing page software tools have out-of-the-box templates that make it really easy to get a beautiful page live in just a few minutes — many literally have hundreds of pre-built templates for you to choose form and some even have ways to 1:1 ad-to-page personalization you can enable.
ClickFunnels, Unbounce and Instapage have templates specific to industries like finance, ecommerce, fashion, CPG products and real estate.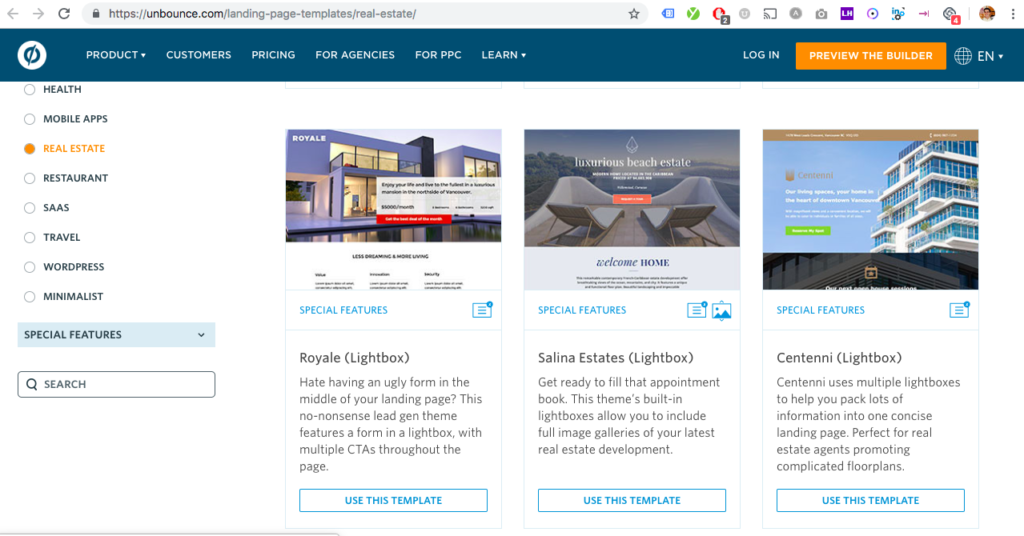 Different ways to use landing page creators
Even though landing pages are designed to be simple and specific, there are so many ways to use them to meet business goals.
You can make pages to promote something specific like a new product or a special sale.
They are also commonly used for gathering information such as email lead capture forms.
You can make "impromptu" and temporary pages for your business (a great way to host a webinar).
Landing page creators also make it easy and fast to create a simple page with a webform or button.
You can use this ability to prop up a quick MVP (minimum viable product) test of a web concept. Send traffic to the page and see if users take your desired action!
The best tools have other features including:
Beyond the actual landing pages, the best landing page creators offer excellent analytics to help with landing page conversion optimization. This makes them great for scaling paid marketing campaigns like Google Ads or Facebook. You can even sync Google Ads to post-click experiences.
Split testing, also known as A/B testing, allows you to try out different designs to see what works best.
Out-of-the-box integrations with other tools you might use like Mailchimp, Salesforce, Zapier, Heap, Shopify, Stripe, PayPal and more. This means you can send the leads you capture anywhere and do tons of different things with them like email marketing, sales enablement or even charge customers.
How to make a landing page…
1. Choose a tool
The first step in building landing pages and converting more users is choosing the tool that works best for your business.
There are four big names when it comes to landing pages creation:
Instapage
Unbounce
Leadpages
ClickFunnels
In this marketer's opinion Instapage is the best, but they all have some good features and the most important thing is to choose the one that best fits your business needs.
To read a more detailed comparison between the tools, read: Instapage vs. Unbounce vs. Leadpages vs. ClickFunnels. Or, keep reading for the short descriptions.
Unbounce
Unbounce is the original landing page creation tool and one of the "big 2" landing page software tools (along with Instapage). It started back in 2009 (really made a splash in 2012) and revolutionized landing pages.
Unbounce has excellent flexibility and creative freedom which might be important if you want to make custom landing pages from scratch. They have the best mobile builder and strong customer support.
All-in-all it's a great tool and it's offered at a price slightly cheaper than Instapage.
For more details on Unbounce, see my full review here.
Instapage
Instapage is one of the largest landing page software providers. They consider themselves the "leader in post-click optimization" conversion rate optimization at scale.
Basically, that means they've optimized their product to help you get more conversions, easily.
Instapage's product is a modern drag-and-drop landing page editor that enables marketers to create pixel-perfect landing pages for paid advertising optimization and quick landing page creation.
For more details on Instapage, see my full review here.
Leadpages

Leadpages offers similar tools as Instapage and Unbounce, it just isn't as good. The editor is ugly and difficult to use, the autosave function doesn't always work, and customization is limited.
One unique thing about Leadpages is that there are two editors, one for beginners and one for more advanced users. It also has a good pop up tool; their pop-ups can be used on any page you own, not just ones you created with Leadpages.
Leadpages is the cheapest option. Although it's not the best, it's perfectly usable and is the best option for businesses on a budget.
For more details on Leadpages, see my full review here.
ClickFunnels


ClickFunnels does a little bit more than just create landing pages. It specializes as an all-in-one solution to websites and email marketing. With ClickFunnels you create landing pages in tandem with other tools such as customized email communications, hosting webinars, or collecting payments.
Because they have a broader scope, their landing page creator tool it's not as developed as Instapage or Unbounce. With the basic plan you are limited to 100 landing pages, 20,000 visitors, and 3 custom domains.
Although ClickFunnels doesn't have nearly the best landing page creation capabilities, it has great value in its other features. ClickFunnels is good for people who want to build entire marketing funnels.
For more details on ClickFunnels, see my full review here.
2. Think about the action you want the user to take
Step 2 in creating your first landing page is… making the page!
But first, you need to pause and think about your user.
Landing pages are meant to be specific, so before creating one you should have a clear idea of the desired action for the page visitor.
A few examples of landing page use cases:
Webinar registration
Customer feedback surveys
Registering for an event or class
Capturing emails or other information
Launching a new product
Offering special promotions
Scheduling a call
Downloading a PDF
You may then choose a template that meets one of these goals and begin building your page.
When you create a page in your builder of choice it should answer a question or prompt the user to take action.
Remember! Adding value to the user is paramount.
A user is much more likely to take action if you give them something of value in exchange. This could be great advice, a PDF, a strong brand, a special offer, or exclusive information.
3. Build a landing page from scratch
All of the "big 4" landing page builders have a drag-and-drop user interface to help make landing page creation easy. You won't need to know any code to build your page. After choosing your landing page creator and deciding on your purpose, you can get started.
This can be done from scratch or by using a landing page template.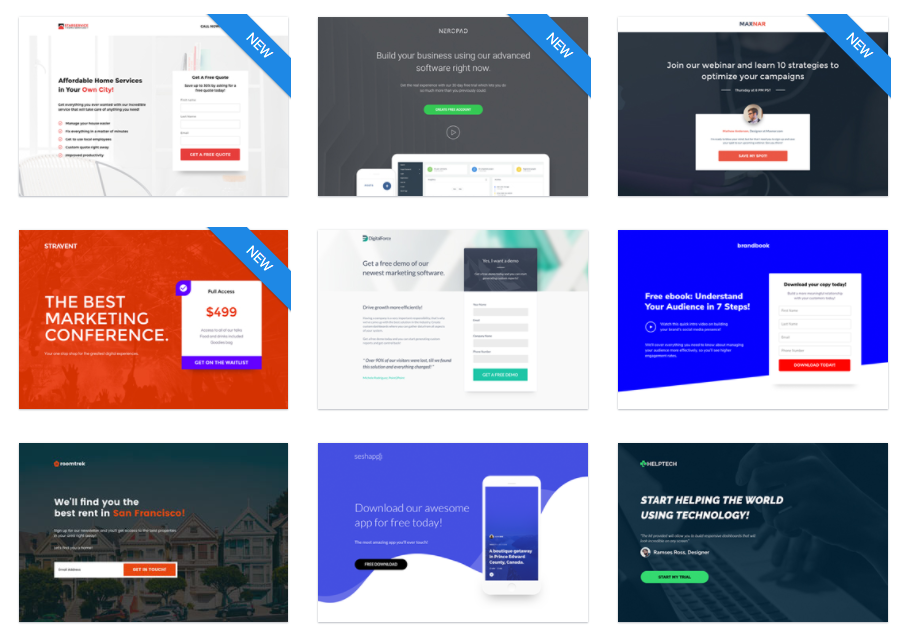 The landing page creators all have templates, but Instapage and Unbounce have the most to choose from and have the most professional looking options.
Then, if necessary, plug your landing page into another software tool. Instapage for instance, has integrations with other tools like Mailchimp, Salesforce, Zapier etc.
Setting up these integrations can be different between apps as they require changing settings in the software you are trying to integrate with. If you have trouble with this step there are great help pages to give you direction for particular apps.
4. Landing page conversion optimization:
Using A/B testing is an incredible way to maximize the effectiveness of your landing page. You will definitely want to run A/B tests for landing page conversion optimization.
With A/B tests you can create multiple versions of a landing page and collect data on the performance of each version. With A/B testing, you can continually tweak elements of your landing page and re-test them until you have reached your desired goal.
Landing page creators provide in-house analysis of several metrics that help you understand how site visitors are using your page. You can see data such as number of clicks, conversion rates, number of visitors, time on page, traffic source, bounce rate, and more. With Instapage and Unbounce, you can also integrate you're testing and analytics with Google Analytics if you are already familiar with that software. If you are not familiar, Google Analytics is a free tool with a comprehensive list of features. It is the most used analytics service on the internet.
Conclusion
Landing pages are an excellent way to increase conversions and they are a must use for any online marketing campaign. There are many options to choose from, but I recommend Instapage.
If you are on a budget, consider Unbounce. For an even tighter budget, go with Leadpages. If your business needs a broader scope and wants to have all of your marketing tools under the same roof, try out ClickFunnels.
If you are just starting out with setting up landing pages I suggest using a template. They are designed to be successful. If you are not experienced, then a totally custom landing page from scratch might not help you increase conversions. If you use a ready-made template, you can rest assured it will at least do okay.
If you do decide to build a page from scratch, keep it simple. Use minimal images and larger fonts, a centered single-column, and remove links to other material that distract from your call-to-action.
f your page asks for information, then be minimalistic; a visitor is less likely to fill out a long form or a form that asks for more personal information like a phone number. Here are some of our favorite online form builders.
Regardless of whether you use a template or build a page from scratch, make several landing pages and compare their effectiveness with A/B testing and other built-in analytical tools. This is perhaps the best part about landing page creators as it is necessary for landing page conversion optimization.
Whichever options you choose, get started with a simple drag-and-drop editor and watch your conversion rates rise.
We occasionally link to products and earn fees. We only review products we trust. And we only trust about 10.