Latest posts by Hailey Friedman
(see all)
The average customer support technician can handle 21 tickets a day (source). So if your business has more than 21, you likely need a help desk software tool to coordinate all those interactions and support agents.
Or consider this scenario: your company's IT department wants to organize their internal ticketing system as the company grows and tickets begin getting lost in the ether. Help desk software tools can help with this as well.
Help desk software is a broad category of software that organizes processes for:
Customer service interactions
IT services
Automated ticketing
Customer self-service
Social media
On-premise work
This list will broadly cover all help desk software tools.
If your goal is finding a customer support software, read: The 7+ Best Customer Support Software Tools. Many of the tools in these lists are the same.
A Little Disambiguation
Customer service software and help desk software have converged over the years. Help desk software was originally just for internal teams — it was used to manage IT tickets and internal communications. On the other hand, customer support software was simply inboxes and chat features for handling support issues.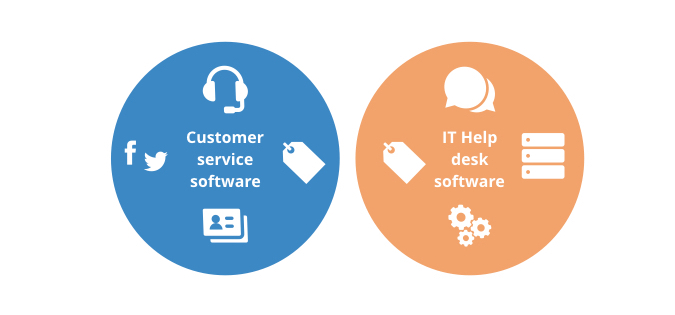 But as the years went on, the availability of cloud solutions and advancements in technology enabled both categories to take on new forms. Both built technology around "ticketing" and as such, the categories merged somewhat.
Help desk software is considered the overarching category and customer support software falls within the help desk software universe.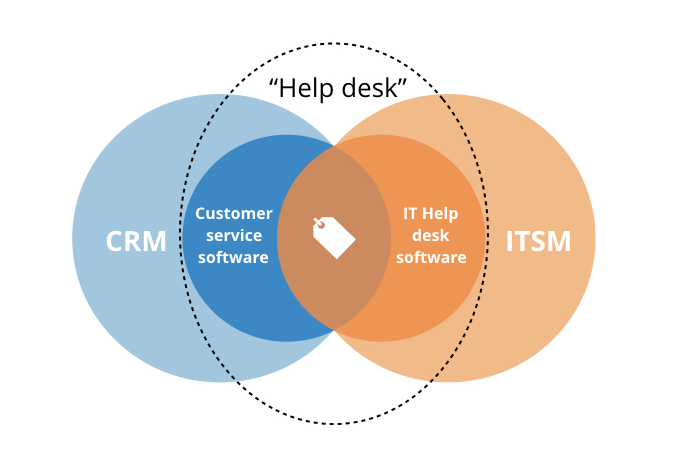 As you would expect, some companies offer both help desk and customer support services and appear on both lists.
Must-have Help Desk Software Features
When selecting help desk software, it is important to consider the features that are important to you and your organization. The following are some of the most common features found in help desk software:
Ticket management: Tickets can be created and assigned to specific support agents, and can include customer contact information, description of the issue, and resolution steps.
Customer support portal: Customers can log in to a self-service portal to view open tickets, track the status of their tickets, and find resolution steps.
Knowledge base: A knowledge base can be used to store information about common issues and how to resolve them. Customers can access the knowledge base to find resolution steps for their own tickets.
Reporting: Reports can be generated to track the number of tickets open, closed, and resolved, as well as the average response time and resolution time.
Customer service metrics: Help desk software can track customer service metrics such as customer satisfaction, first contact resolution, and customer service quality.
Integrations: Help desk software can be integrated with CRMs, email software, and much more
Also read:
–The 7+ Best Customer Support Software Tools
–The 9+ Best CRM Software Tools
–Why Customer Lifetime Value is the Most Important Metric in Business
1. Zendesk: best for customer help desk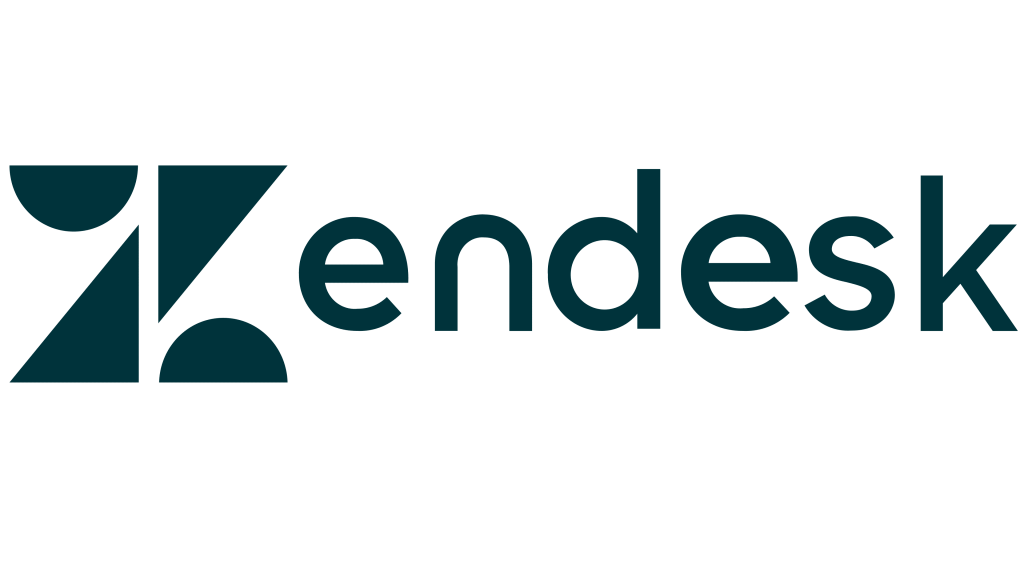 Zendesk is a customer support software that is designed to help businesses manage their customer relationships. It offers a variety of features, including ticket management, customer profiles, and reporting tools. It has perhaps the biggest index of integrations with other software tools, including Salesforce, Google Apps, and Slack. It's one of the most comprehensive and maybe the best known of all customer support software tools.
Zendesk also enables businesses to build robust, customizable help centers and forums — which helps reduce cost and operational burden. Zendesk also has AI chatbots so you can use automation to make sure customers never have to repeat themselves. I've used Zendesk many times and have been happy with it.
Features
Supports customer service via live chat, email, social, and voice
Create help centers to proactively answer customer questions
Huge marketplace of over 2,600 integrations and apps to customize your Zendesk instance
Slick interface that works for small and large teams
Create AI chatbots
Integrations
Integrates with Shopify, Jira, Trello, TrustPilot, Intercom, Recurly, and of course their own CRM solution
Customers
Customers include Mailchimp, Siemens, Khan Academy, Uber and Tesco
Pricing
Standard plans start at $49/agent/month. It also offers a free trial.
2. SolarWinds: best for IT help desk

The SolarWinds Help Desk Tool is a great way to communicate with your customers and internal stakeholders. This is a tool that's used for both internal and external teams — but is mainly focused on help desk for IT. They boast that 498 of the Fortune 500 use Solarwinds. SolarWinds, despite its misleading name, is a very comprehensive service desk with intelligent ticketing, service management, configuration management, asset management, knowledge base and portal, as well secure remote support. The help desk solution features ticketing by category, ticket stats, priority levels, and helpful analytics to report on statuses to stakeholders.
SolarWinds also has a comprehensive suite of tools for IT professionals, including database management, systems management, application management, and IT security.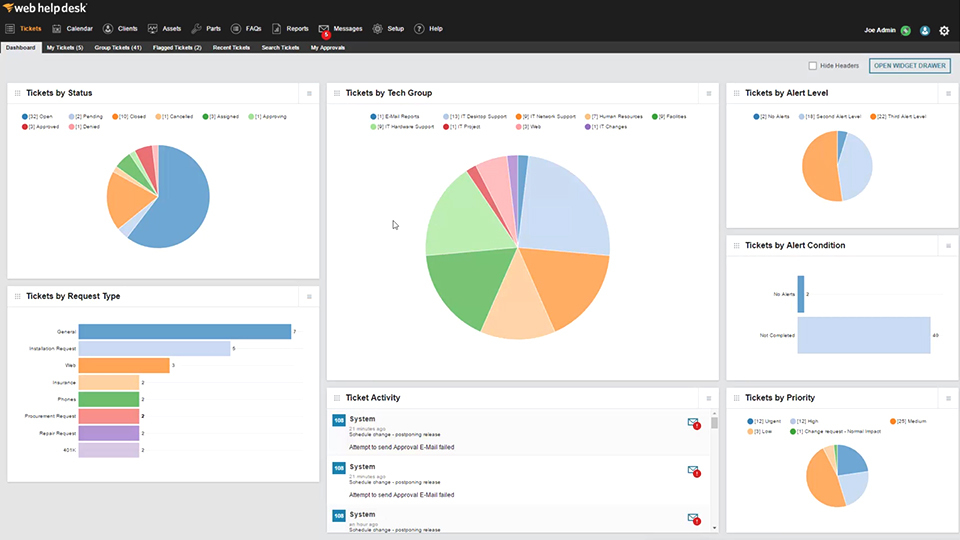 Features
Incident management consolidates, manages, and prioritizes incoming tickets.
Service catalog standardizes service request and fulfillment processes.
Fully integrated IT asset management compiles hardware, software, POs, and more.
Integrations
SolarWinds actually doesn't have a ton of integrations. But it has the important ones including the Google Suite, Microsoft Suite, Slack, and Zapier.
Customers
498 of the Fortune 500
Pricing
SolarWinds requires you to contact them for pricing information.
3. Freshdesk: most features

Freshdesk is owned by Freshworks, a company with a suite of tools that includes HR software, sales software, and even marketing tools.
Freshdesk a cloud-based customer support software that allows businesses to support their customers through email, phone, and chat. It also offers a help desk solution that allows businesses to manage and track their customer support tickets. Like many of the other tools on this list, it operates in an omnichannel fashion — unifying social media, email inboxes, and call centers.
Features
Live chat function
Simplified, automated scheduling with customers
Similar reporting and automation capabilities as Zendesk and Help Scout
Seamlessly connects all channels under one product
For phone support: powerful routing engines that dramatically reduce call wait times and achieve smarter escalations
For onsite support: schedule service teams efficiently based on availability, proximity and skillset
AI-powered chatbots
Integrations
Integrates with Salesforce, Jira, HubSpot, Gmail, Drift, ClickUp, Github and more
Customers
Customers include GoDaddy, Cisco Meraki, Workday, Carvana, Checkout.com, Flexport and more
Pricing
$19/user/month, but you must commit to two users. So in reality, it's $38/month.
4. Capacity: best for developers

Capacity's AI-powered Helpdesk solution can improve the support process, create more time for your team, and streamline business operations. Capacity is a tool for both internal and external teams. It enables teams to set up help desks for customer support fast. Plus, you can use Capacity to set up knowledge bases for teams. And if you need to find something, Capacity enables you to use natural language to locate documents and information. For example, if you've implemented Capacity you could simply type, "what is the YTD performance of our mid cap growth fund?" and the tool will surface the relevant documents and knowledge. Capacity also has a chatbot and customer support ticketing solution for solving customer questions fast.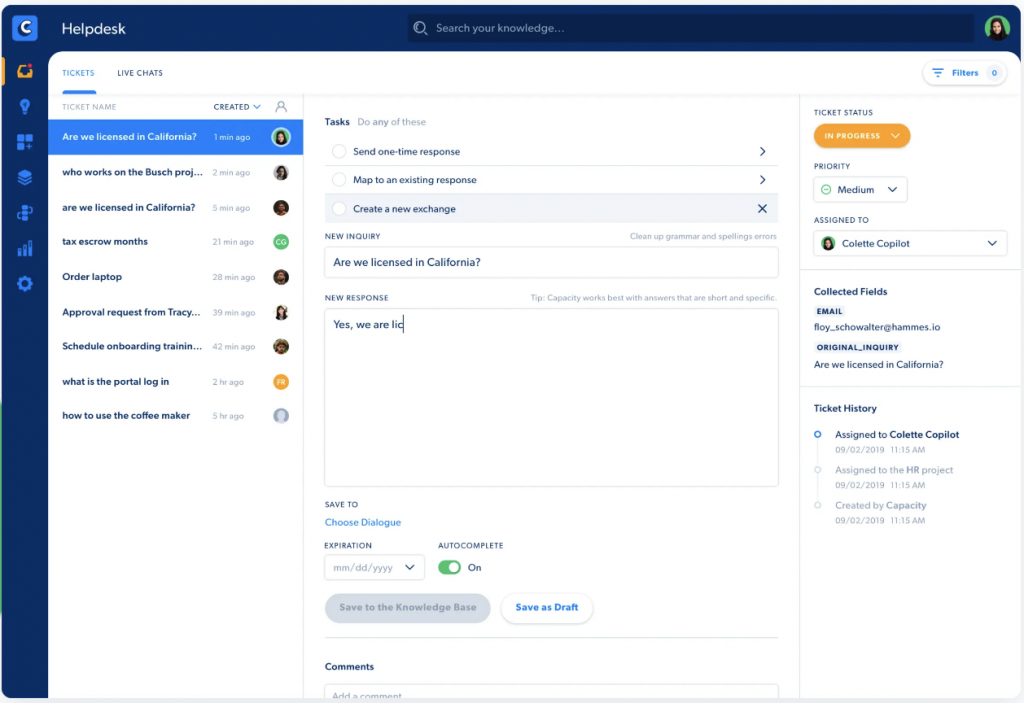 Features
Full knowledge base and help desk solution powered by AI

Intelligent document processing for internal knowledge
Automate customer support capabilities similar to Zendesk
Developer platform so you can adapt Capacity precisely to your needs
Integrations
Integrates with Twilio, Marketo, Asana, Salesforce, Google Analytics, HubSpot and more
Customers
Customers include PRMG, Chargebee, Bayer, Envoy Mortgage, and many more
Pricing
Capacity requires you to contact them for pricing information.
5. Help Scout: best for small businesses

Help Scout is a leading customer support software that allows businesses to manage customer support tickets, track customer interactions, and collaborate with their team to provide better customer service. Help Scout also offers a variety of features such as a knowledge base, chatbots, and a customer feedback portal to help businesses provide the best customer service possible. Manage all your customer conversations in one powerful platform that feels just like your inbox!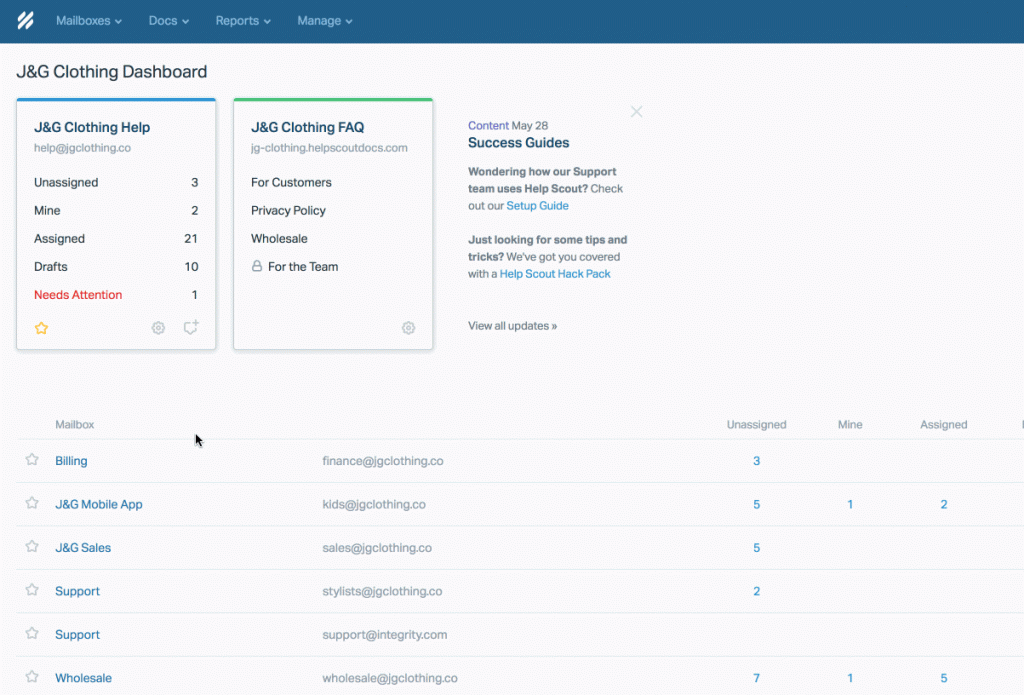 We love it because it offers the best pricing for small and medium sized businesses. It lacks some of the shiny bells and whistles and unlimited integrations, but it's just as powerful as some more expensive tools.
Features
Shared inbox
Messaging
Live chat
"Create a workflow" function to eliminate manual support tasks
Reporting data that rivals Zendesk and Gorgias in quality
Integrations
Integrates with Salesforce, Segment, Slack, Mailchimp, Jira and many more
Customers
Customers include MixMax, Trello, Honey, Yeti, and Spindrift
Pricing
$20/user/month, making it one of the most affordable options available
6. SysAid: strong IT enterprise solution
SysAid is a comprehensive help desk software solution that offers a wide range of features to help you manage your IT help desk more efficiently. From ticket management to asset management, Sysaid has everything you need to optimize your help desk operations. SysAid enables IT professionals to automate sorting, routing, and tasks to streamline IT workflows. It's most analogous to SolarWinds in terms of functionality.

Features
Ticket management: Easily manage and track all of your help desk tickets from a single location.
Asset management: Track and manage your organization's IT assets, including their location and status.
Knowledge base: Create and manage a repository of knowledge articles and FAQs to help your users help themselves.
Remote support: Offer remote support to your users to help them troubleshoot issues without having to visit their desk.
Reporting: Generate detailed reports on help desk activity, ticket resolution times, and more.
Integrations
Integrates with Google Suite, Zapier, Azure, Microsoft Office, Okta, and more.
Customers
Customers include University of Michigan, Bacardi, The Guardian, Spectrum Health, and many more
Pricing
SysAid requires you to contact them for pricing.
7. Gorgias: best for ecommerce

Gorgias is a customer support software that is specifically designed for ecommerce businesses. Features include a ticket system, a knowledge base, chatbots, and a customer feedback system. The reason Gorgias is a great solution for ecommerce is that it integrates directly with Shopify and WooCommerce. It also surfaces ecommerce specific metrics, as well as analytics and reports to keep your team honest.
Gorgias is also very easy to use. It can be accessed from any device, and it offers a user-friendly interface that makes it simple for businesses to get started and for teams to collaborate on customer support.
I suppose they practice what they preach: Gorgias also offers great customer support. The team is available 24/7 to help businesses get started and to answer any questions that they may have.
Features
Integrates with Shopify and other big ecommerce platforms
Live chat
Social media integrations for social listening and support
Email sync'ing and automations
Great dashboards and reports for tracking order status, service rep performance, sentiment analyses, and many more enterprise-grade tools
Order management, SMS, and other ecommerce specific add-ons
Integrations
Integrates with Shopify, Klaviyo, Facebook, Instagram, ShipBob and multiple SMS apps
Customers
Customers include Steve Madden, Olipop, Marine Layer, and Bokksu
Pricing
$50/month for 300 support tickets/month, on up to $750+/month — you can add automation for $25/month
8. Front: slickest UI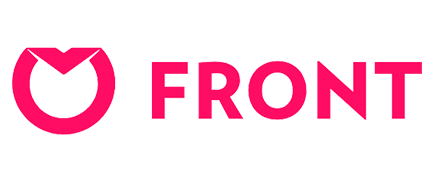 Front is a customer support software that enables businesses to communicate with their customers through a help desk and a knowledge base. Connect all communication channels to your team inbox — email, SMS, WhatsApp, social media, live chat, etc. Plus, get a 360° view of all customer information next to every message, so everyone is an expert on who they're communicating with.
Front is a really modern tech company. They're one of the newer customer support tools, but they've hit the ground running by raising a ton of money, onboarding thousands of businesses and launching new features monthly. One of the best things about Front is its customer support. The team at Front is always available to help businesses get set up and started using the software. They are also available to help businesses resolve any issues that may arise.
Features
Connect SMS, WhatsApp, social media and more to a unified inbox
Live chat function
Customer information at your fingertips as you browse the tool
Analytics with SLA's, team performance, performance to goal, and more
Integrations
Integrates with Salesforce, Jira, HubSpot, Gmail, Drift, ClickUp, Github and more
Customers
Customers include GoDaddy, Cisco Meraki, Workday, Carvana, Checkout.com, Flexport and more
Pricing
$19/user/month, but you must commit to two users. So in reality, it's $38/month.
9. Jira Service Desk: both IT and customer support

Jira Service Desk is a tool that allows customer support and IT professionals to convert their email inbox into a more structured system. This system allows for more efficient responses to customers and clearer interactions with stakeholders. Jira Service Desk allows you to track, assign, and collaborate on tickets in a central location. You can also view reports on closed and resolved tickets, keep track of new tickets, and see which tickets are assigned to each team member. A very cool feature of Jira is "conversational ticketing," which enables employees to seek help directly from Slack and agents can track all the information they need in Jira Service Management.
Features
Request management features and dashboards similar to many of the other tools on this list
IT incident management: enables IT operations teams together to rapidly respond to, resolve, and continuously learn from incidents
Configuration management: gain visibility into the infrastructure and dependencies that support critical applications and services
Knowledge management tools
Integrations
Jira has very few integrations with non-Atlassian tools
Customers
Customers include Bitly, AppDynamics, HubSpot, Bonobos, NASA, and a lot of other companies you've heard of
Pricing
Free for up to 3 agents, then starts at $20/agent/month.
Best Free Help Desk Software
Google Collaborative Inbox is the best free help desk. With this amazing free Google tool, users can create a help desk for their team and manage all of their support requests in one place. The inbox also allows users to collaborate with their team members to resolve issues as quickly as possible. The Google collaborative inbox is extremely easy to use and can be accessed from any device or computer with an internet connection. Additionally, the inbox is completely customizable to meet the specific needs of your team.
Jira also has a limited free plan that is good for up to three agents.
Best for E-commerce
Georgias is the best help desk software for eccomerce businesses.
It offers a wide range of features that are perfect for businesses that sell products and services online. These features include: ticket management, chat, knowledge base, reports, and more. Additionally, Georgias is easy to use and can be customized to meet the specific needs of your business.
Best for IT
Purely because of its size, breadth of tools, and support history, SolarWinds is the #1 help desk choice for IT. Jira Service Desk is also a really strong solution for the same reasons as SolarWinds. Plus, the interface is a little more modern.
Conclusion
There are a number of options to choose from when it comes to finding the right help desk software. The first place to start is deciding whether you need a customer support help desk or an IT help desk. From there, you can narrow down your choices to 3-5 that cover your needs. Remember: very few of these tools support both use cases well (Jira is one of them).
Once you've decided that, look for the service that meets your budget, scaling requirements, and has the bells and whistles you need. For instance, perhaps you need chatbots (look at Zendesk or Help Scout) or a solution that can be modified via engineers (Solar Winds, Zendesk, or SysAid).
Also read: The 7+ Best Customer Support Software Tools