Latest posts by Mark Spera
(see all)
Thousands of small business owners blindly choose their accounting software without really doing their research. It's crazy to think some entrepreneurs manage their company's funds with a free tool like excel or Google sheets just because it's free.
Don't get me wrong, we run this blog, Growth Marketing Pro on spreadsheets. But, our business is simple — completely passive affiliate income with only content creation costs.
64% of small businesses do use accounting software. If you have a business with inventory, billing, clients, significant costs, or any amount of complication, you should invest in a sophisticated, but easy small business accounting software tool. These are the top 10 small business accounting software tools.
Why Accounting Software is Important to Small Businesses
Accounting software is essential for business entities of all kinds, such as agencies, freelancers/contractors, SaaS businesses, and ecommerce companies. Small businesses rely on accounting software to ensure all financial reports are correct. Otherwise, the IRS may have some questions for you around tax time.  
Below are some of the essential functions of accounting software for small businesses:
Invoicing
Online payments
Reports/Insights
Financial statements
Access for additional users such as accountants and tax professionals
Cloud-based ease
Organization
How to Choose the Best Accounting Software for Small Businesses
If you are looking for accounting software for your business, see if the software has specialized products targeted at small businesses. Sort through the different offerings by looking for features that include educating new individuals with ease.
For example, does the program or app offer a knowledge base, live chat, or video tutorials?
Being a small business owner already comes with a lot of pressure. You don't need your accounting software to add to it. Instead, make sure the one you choose fits in terms of ease of use, features, and integration.
The goal of any business is to grow, right? So make sure the program can grow with you. Look for pricing options that enable you to do more with your tool as your revenue increases.
Best Accounting Software for Small Businesses
Who it is for:
Intuit QuickBooks Online has cornered the small business market for accounting software, rising to the top of our list. QuickBooks Online is ideal for small businesses and their bookkeeping professionals due to their easy access main dashboard. This main dashboard is a one-stop shop for inventory management, time tracking, budgeting, and more.
Small businesses turn to QuickBooks Online for the reliability of the cloud-based software, which individuals can access through a web browser or a mobile app. This flexibility, paired with the countless online tutorial videos, allows small business owners to bask in the ease of accounting.
What it does:
QuickBooks Online equips small business owners with everything they may need to get up and running. For many first-time owners, QuickBooks Online offers necessary guidance on creating and sending invoices, tracking expenses, and managing inventories.
QuickBooks Online has features that help businesses create a calendar to track payments while offering owners pre-made templates to create custom invoices. Other essential features include managing and tracking expenses, monitoring inventory, and providing reports to ensure businesses stay on track.
International selling is easy with multi-currency options to help owners reach their desired customer base. In addition, you can track recurring transactions and manage budgets to help you grow and develop your brand.
Features:
Create/Send Invoices
Manage/ Track Expenses
Reporting/Insights
Connects to your bank
Multi-currency
Inventory Tracking
Pricing:
Offering a free 30-day trial along with monthly and annual pricing packages, QuickBooks Online makes it easy for small business owners to test out if this accounting software platform fits with their business.
QuickBooks Online's packages allow businesses to upgrade as they grow by offering Simple Start, Essentials, and Plus options. These three options range from basic features perfect for starting a small business, to more advanced features targeted at a company looking to grow.
All pricing can be found → here.
Who it is for:
FreshBooks targets small service-based businesses that are constantly sending proposals and invoices. Think freelancers, self-employed professionals, and companies with contractors and employees.
Primarily a platform for creating, sending, and receiving invoices, the cloud-based software has grown since its creation in 2003 to offer features including expense, inventory, and time tracking paired with seamless project management. Owners can access the platform via the app or online. 
Service-based small businesses flock to FreshBooks for their accounting software due to the simplification of invoicing. FreshBooks offers features that help schedule and track payments, as well as create and send invoices in multiple languages and currencies. This is a great feature for owners who have no accounting background and little time to learn new products.
What it does:
FreshBooks is known among small business owners as go-to accounting software for its multiple accounting features, helping first-time owners gain their footing and expertise. These features include automated bank reconciliation, double-entry accounting, and transaction tracking on an easy-to-use platform.
Along with accounting assistance, business owners never need to worry about losing track of project spending or receipts with FreshBooks' expense tracking feature. In addition, business owners and freelancers alike can easily set up seamless online payments for invoices, allowing their clients multiple ways to pay, including FreshBooks Payments, Stripe, and PayPal.
Organize your freelance or small business's accounting, and get ahead of the game with FreshBooks.
Features
Tracking expenses
Managing payments
Time tracking
Project management
Creating/sending invoices
Mileage Tracking
Estimates
Reports/Insights
Pricing:
FreshBooks offers newcomers to try the accounting software for free for a limited amount of time. Then, when satisfied with the software, you can choose from three different monthly or yearly packages.
The Lite, Plus, Premium, and Select packages simplify the process for individuals and businesses, depending on the number of clients they have. Furthermore, once you commit to the software, you can save by purchasing FreshBooks yearly plans.
All pricing can be found → here.
Who it is for:
Freelancers, independent contractors, entrepreneurs, and small business owners are attracted to Wave mainly because it is the top free accounting website. That is, unless users sign up for payroll and customer payments. Individuals appreciate Wave not only for its price tag; offering top-of-the-line software, Wave also works with individuals to help run a smooth business.
Individuals looking for a platform to help manage income and track expenses while creating and sending invoices, look no further than Wave. This double-entry accounting software is especially inviting for those just starting their freelance or independent contracting careers by helping them build the skills to empower them for success.
What it does:
Wave accounting software offers essential features for freelancers and small business owners to feel secure in their software choice. With cash flow reporting, income and expense tracking, and features that help make invoicing a breeze, Wave is priced right for small businesses and independent individuals.
Freelancers all the way up to large business owners want to ensure their invoices look professional and are sent on time. Wave makes it easy to send invoices and receive payments with the option to switch between automatic and manual billing whenever you wish. In addition, wave offers free apps for the ability to pay invoices and accept payments on the go.
Features:
Automated bookkeeping
Unlimited bank and credit card connections
Expense tracking
Creating/sending invoices
Payroll software
Payment tracking
Pricing:
This Toronto-based accounting software company offers users free accounting and invoicing.
Individuals who appreciate Wave's software can sign up for their monthly payroll feature as well, offered at a monthly base fee of $35 for tax service states and $20 for self-service states.
All pricing can be found → here.
Who it is for:
Created in New Zealand in 2006, Xero has over 2 million subscribers and is very popular in New Zealand, Australia, and the United Kingdom. With the rapid growth in the US, small businesses, accountants, and bookkeepers searching for a simple accounting software subscribe to Xero.
With tools and features intended for accountants and bookkeepers, Xero's no-nonsense dashboard offers easy navigation with no accounting experience necessary. Plus, entrepreneurs can be at their ease with two-step authentication and the ability to stay up to date with reports by downloading the Android or iPhone app.
What it does:
Xero is the "accounting software to do your to-do," and the creators stay true to that statement by including features focused on making your job easier. Individuals can track and pay bills, claim expenses, connect their bank, track projects, and more on the easy-to-use dashboard.
Small business owners, accountants, and bookkeepers subscribe to Xero to simplify the accounting process and know that they have access to features that will help them send and receive invoices with multi-currency flexibility.
Features:
Track inventory
Create/distribute invoices and purchase orders
Reports/Insights
Track projects
Bank connection and bank reconciliation
Pay/organize bills
Claim expenses
Pricing:
With each stage of your business growth, find the perfect plan that fits your progress. Just beginning? Xero's Early plan is ideal for sole traders, new businesses, and the self-employed. Is your small business growing? Perfect for growing small businesses, the Growing option is the popular Xero plan. Are you established and looking for support? Xero's Established plan pairs perfectly with established companies.
All pricing can be found → here.
Who it is for:
Sage is an online accounting and business service specifically for small businesses. Over the years, it has grown to an AI-powered, cloud-based software that allows users to choose their company size and industry, quickly becoming popular with over three million subscribers and remaining a go-to for small organizations.
Sage is unique for individuals who find themselves within the construction and real estate industry by offering specific software like Sage Intacct Construction, Sage 100 Contractor, and Sage 300 Construction and Real Estate.
What it does:
Established in 1981, Sage has developed into a complex accounting software compared to its competitors. This may or may not be attractive to beginner accountants and bookkeepers, so don't be quick to write it off as the perfect option for your business. With its complexity, Sage has great features that promote growth within your business.
Featuring exceptional customization options, automated workflows, and invoice tracking, Sage can help businesses stay up-to-date with their accounts in real-time. In addition, subscribing to Sage allows individuals to complete accounting, payroll, and payment responsibilities with ease.
Features:
Cloud-based
Manage cash flow/business finances
Inventory tracking
Easy-to-read reports/analysis
Tax compliance tools
Pricing:
Sage breaks down their pricing model a little differently than other accounting software by allowing business owners to choose software that will fit their needs. The needs that Sage covers are, Accounting, Finance and Payroll, Construction and Real Estate, Human Resources and CRM, and Business Management.
Under each category, Sage offers various software designed to cater to small or medium businesses ' needs.
All pricing can be found → here. 
Who it is for:
Kashoo claims to be "the world's simplest accounting solution" for small businesses. From businesses that require double-entry software to individuals only needing to send out five invoices, Kashoo makes accounting a breeze.
Offering a TrulySmall business option, individuals who are just starting as freelancers or are in the beginning stages of independent contracting appreciate this software. If you have fewer than 500 transactions or over 1,500 transactions per year, Kashoo software embodies features that help contractors, freelancers, digital professionals, and small businesses alike.
What it does:
Keeping track of how your business is doing is essential for small business owners, and Kashoo knows this. Therefore, they have features that make reporting effortless. With unlimited users available, owners can share data with accountants, bookkeepers, and employees.
Other features that put Kashoo on our list include creating and sending invoices, collecting payments, and tracking transactions. Furthermore, Kashoo makes it easy for businesses to add features that can enhance their experience, including a mobile app, direct support access, and payroll integration.
Features:
Send/create invoices with logos
Collect payments
Reporting dashboard
Transaction tracking
Pricing:
No matter the size of your small business, Kashoo offers software that will suit your accounting needs.
The TrulySmall software package is perfect for those business owners or freelancers who are just starting. With two options (invoices and accounting), individuals can assess what will suit them best. If TrulySmall doesn't fit your established business, try Kashoo's advanced accounting platform for mid to large size small businesses.
All pricing can be found → here.
Who it is for:
Zoho Books was initially started in India in 1996 as online accounting software for small businesses. Zoho Books made our list for small companies for its 40+ app integrations that help match the software your small business may already be using.
If you are a small business owner with cloud-based software, Zoho Books will integrate seamlessly to help with your accounting needs. However, keep in mind, this software has limited payroll options, making it less appealing to larger or more developed small businesses.
What it does:
Zoho Books stands out among its competitors through its usability, flexibility, and extensive help resources as double-entry cloud-based accounting software. Therefore, new subscribers to Zoho Books can rest easy knowing help is there when needed.
One of the best aspects of Zoho Books is its multitude of features. From invoicing, estimates, expenses to client portals, project management, tax help, and reporting, individuals can find all they need quickly.
Features:
Vendor portal
Automation
Reporting
Sales/Purchase orders
Banking/bills
Create/send invoices
Pricing:
Small business owners are especially attracted to Zoho Books for its free pricing option for businesses with revenue. But if the free option doesn't appeal to you, Zoho Books offers Standard, Professional, and Premium options with monthly and yearly subscriptions.
All pricing can be found → here.
Who it is for:
OneUp is known for its all-in-one business management cloud-based software, which can be a mouth full but appeals to small businesses looking to combine their business management with their accounting software. No need for integration with a platform that does it all.
Small business owners who are just starting out turn to OneUp to help manage every aspect of their business while also trusting that it will take care of accounting responsibilities.
What it does:
What does OneUp not do? With clients in over 50 countries, its primary goal is to "deliver the best product experience without compromise." The quality software offers invoicing, accounting, inventory management, and CRM (customer relationship management), all of which small businesses need to gain their footing.
Features:
Invoicing
Accounting
Inventory management
CRM (customer relationship management)
Pricing:
Looking to try out OneUp but unsure if you want to commit? Do not worry; they offer a 30-day free trial to test whether their software is right for you.
Looking to try out OneUp but unsure what your business needs? Have no fear; OneUp offers Self, Pro, Plus, Team, and Unlimited packages suitable for any small business.
All pricing can be found → here.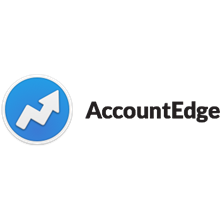 Who it is for:
If you're a small or mid-sized business with an experienced accountant on your side, AccountEdge Pro is the ideal software for you. With a multitude of customizable features, professional accountants will feel comfortable using the powerful reporting tools available.
What it does:
AccountEdge Pro made our list for its full-featured accounting software that manages all aspects of a small business. As a result, entrepreneurs can be confident knowing that their accounting software covers their payroll, sales and purchasing, invoicing, and inventory management.
While initially created solely for the desktop, AccountEdge Pro offers an app that allows you to manage your business wherever you are. Moreover, AccountEdge Pro allows its subscribers to choose from various packages depending on their business.
Features:
Timed billing
Payroll
Inventory management
Banking
Account management
Pricing:
AccountEdge Pro offers two different ways to determine your price depending on if you are a Mac or Windows user.
Choose from AccountEdge Pro, Priority Zoom, and Priority ERP, each offering advanced features if needed.
All pricing can be found → here for Mac users and here for Windows.
Who it is for:
ZipBooks helps its users by empowering them with easy-to-use software that manages all accounting responsibilities. Plus, the beautiful dashboard attracts individuals who are just starting their business and are looking for quality assistance.
What it does:
ZipBooks has a mission to "provide tools and intelligence to help small businesses succeed," and owners vouch that the software lives up to its mission. Get the features that make accounting a breeze, including expense tracking, which can ensure you never lose a receipt again.
Small business owners can utilize ZipBooks reports and insights features, granting them the ease of knowing their business is on the right track. No need to worry about billing with ZipBooks' one-time and recurring billing features.
Features:
Accounting management
Billing
Intelligence
Expenses
Pricing:
ZipBooks is attractive for small business owners not only for the easy-to-use platform but also for the pricing options, which start at free and end with a Sophisticated option for developed small businesses.
All pricing can be found → here.
WIth all the tools available today, there's nothing holding you back from achieving sustainable growth and keeping accurate books. Learn more about leveraging the right tools to experience exponential growth on your terms.