Latest posts by Hailey Friedman
(see all)
I literally love NFTs.
I love art — and making money isn't bad either.
Non-fungible Tokens, also called NFTs, are taking the world by storm. The NFT market is already $17 billion. Last year, it grew by an astonishing 206x.
For as long as I can remember, I've been an artist.
So it's absolutely fascinating to me that you can now own digital art and other assets. My first NFT was a Doodle on OpenSea. I held that asset for just one month before doubling my money. Since then, I've bought many more NFTs. Like I said, I'm a little obsessed.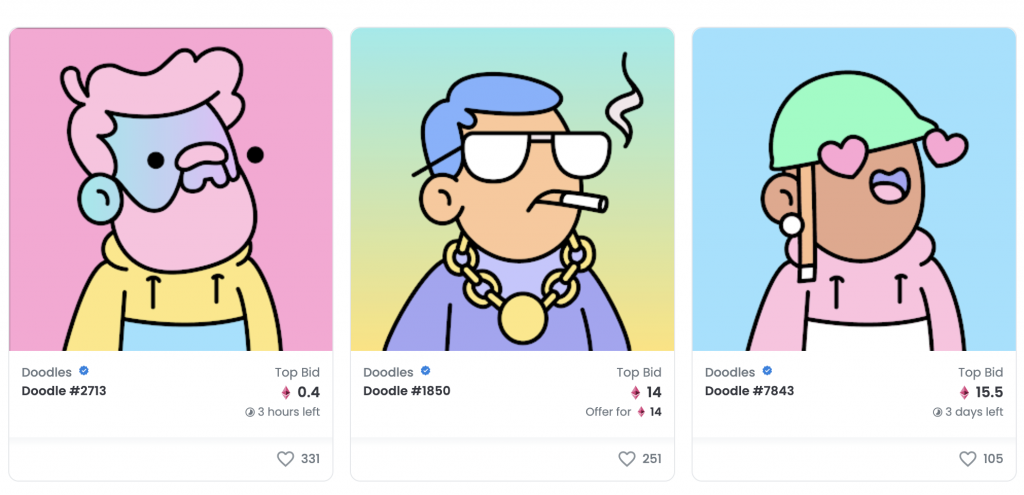 An NFT is a blockchain technology. Blockchain-backed technology is slowly popping up in virtually every industry, from real estate and logistics to fashion and gaming. Some people call it the "tokenization" of everything.
NFTs are tokens that we can use to represent ownership of unique items. They let us tokenise things like art, collectibles, even real estate. They can only have one official owner at a time and they're secured by the Ethereum blockchain – no one can modify the record of ownership or copy/paste a new NFT into existence.
Despite the technology's widespread growth, you can't just purchase or trade NFTs anywhere. Your abstract masterpiece, warrior icon, hipster monkey avatar, and any other NFT require a specific platform to live and trade.
The best NFT marketplaces have a wide selection of assets, are completely secure, and have integrations with many crypto wallets. If you're looking to diversify your investment portfolio, it's a good alternative asset to own.
While my experience has been fantastic, I'll certify that I'm not a financial advisor. I'm just a technologist who loves marketplaces.
What are the Best NFT Marketplaces?
Enter NFT marketplaces – a simultaneous home, gallery, workshop, and bazaar for the latest blockchain mania.
But which is the best NFT marketplace to keep your new digital treasures? You want a reputable platform that makes verification mandatory for transactions, has a user-friendly interface and caters to your niche if you have one.
Ready to find or sell extraordinary NFT collections at the click of a button? Keep reading for our review of the top NFT marketplaces. By the end, we hope the best NFT marketplace for your needs will reveal itself!
1. OpenSea

OpenSea is a decentralized marketplace for digital assets. It allows users to buy, sell, and trade digital assets like CryptoKitties and other NFTs. In fact, it was originally dedicated as an NFT marketplace for CryptoKitties!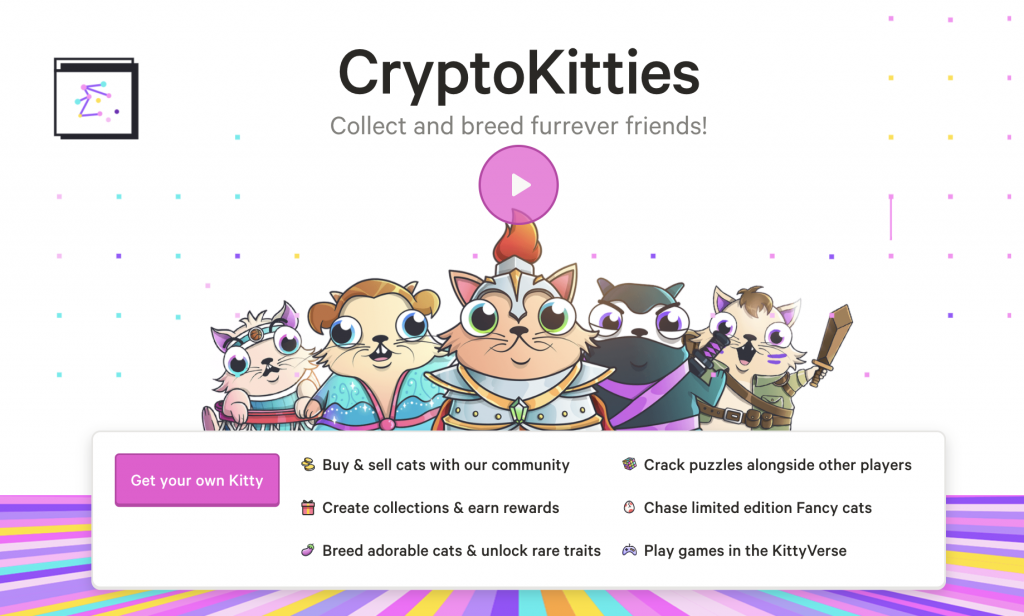 If you crave credibility and influence for the best NFT marketplace, OpenSea is an excellent solution. As the first-ever and largest of all NFT marketplaces, it offers a certain reliability and assurance.
Your cryptocurrency of choice must be Ethereum if you want to use OpenSea. But what they lack in wallet variety, they make up for in its vastness of NFT niches.
Into books, movies, games, fashion, or art? OpenSea has endless collections for you to explore. You can buy and sell NFTs on OpenSea, but that's the tip of the iceberg. The platform boasts a helpful blog as well as an abundance of features and other ways to interact with NFTs.
Features:
Minting (publishing NFTs)
Gifting NFTs
NFT "likes"
Referrals
Buying and selling individual NFTs and bundles
Auctions
Creating NFTs
Rankings by volume, price, and other filters
Compatibility with multiple crypto wallets, Bitski, and Portis
Pros:
Immense information base with rankings and blog resources
Rewards for referrals
A large variety of crypto wallets
Cons:
No fiat compatibility
A relatively low percentage of royalties for creators
2. Binance NFT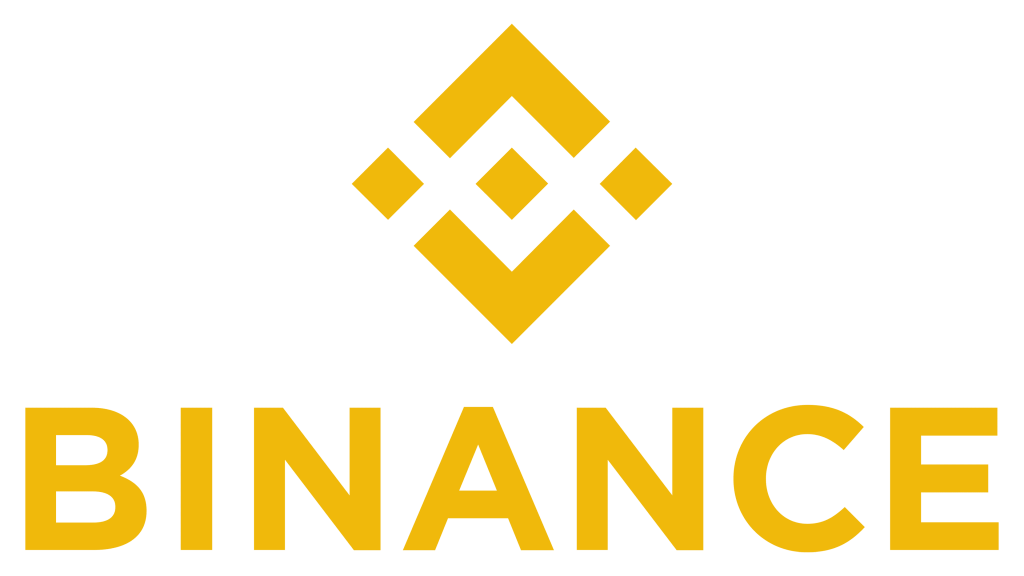 Binance NFT is the latest addition to Binance's large line of products. Because of the company's history and credibility with cryptocurrency, their NFT branch benefits from the established Binance ecosystem, Smart Chain technology, and the Ethereum blockchain. Users can purchase NFTs with either cryptocurrency (Ethereum) or even Fiat currency – a bonus for some crypto beginners.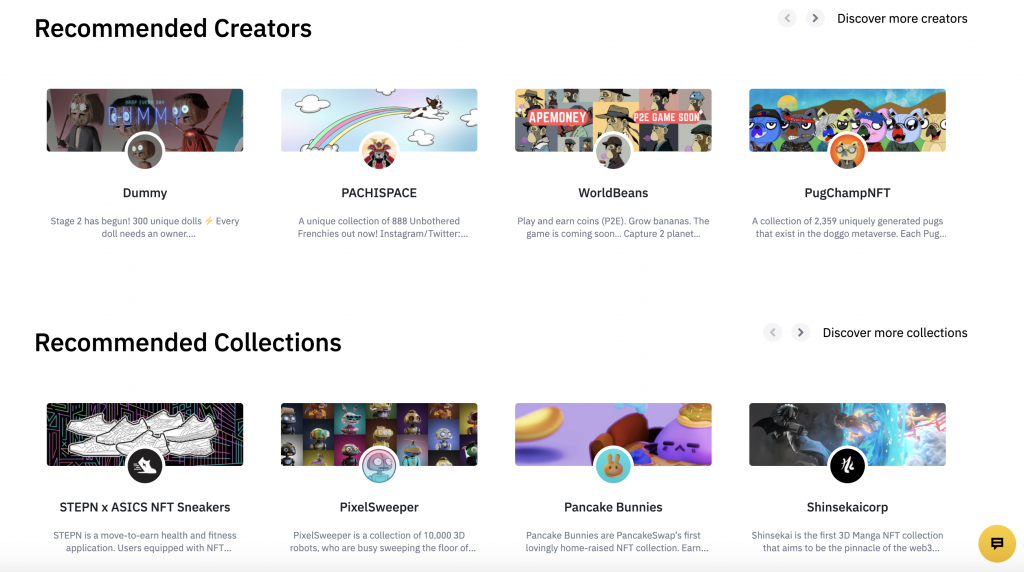 For the privacy-focused NFT browser, Binance NFT doesn't require ID verification for signing up, or any fees. However, the NFT buyer will need to show ID verification to make purchases with crypto or fiat.
As for niches and categories, Binance NFT provides immense selection. You'll find gaming, art, sports, and premium and collectible NFT collections on the platform.
Features:
NFT collectibles like Nyan Sum Cards
Mystery boxes
NFT likes
Notifications
Extensive search features
Pros:
A large variety of crypto wallet support like SafePal, MetaMask, and Trust Wallet
Robust security features and authentication
Mystery boxes with rewards
Binance is a large, world-renowned crypto company, so your assets are likely safe
Cons:
New to the market, lacking NFTs with rarity
There's a big learning curve for traders new to the Binance ecosystem — it's not the best UX/UI
3. Nifty Gateway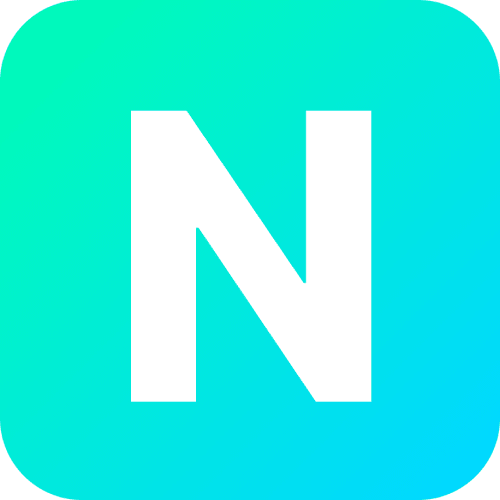 Nifty Gateway touts itself as the premier marketplace for everyone – from beginners to experts, and everyone in between. Founded by a pair of brothers in 2018, the company sold recently to the cryptocurrency platform Gemini LLC, which is worth up to $1.2 billion.
They specialize in digital art and music, as seen by their partnerships with world-famous artists and musicians. Purveyors of premium NFTs, Nifty Gateway is the place to go if you have a bit of experience and have a taste for the finer NFThings in life.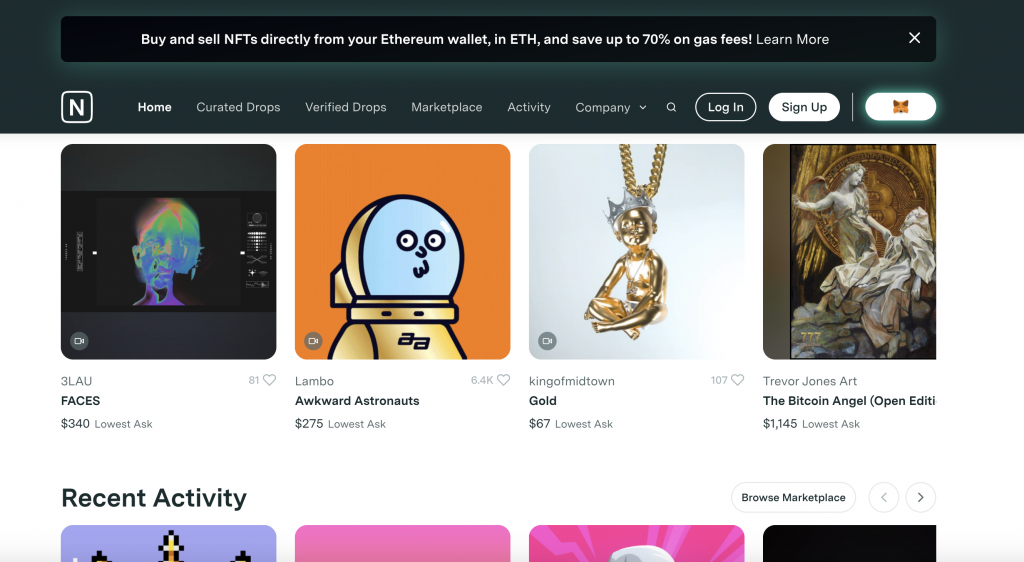 But investors beware: recently, Nifty Gateway was in the spotlight for a massive user hack that had millions of NFTs lost, with no recourse for users.
Features:
Exclusivity through curated and verified art drops distributed every few weeks
Flexible commissions at the discretion of the artist
Credit card transactions
Collector advisory services
Buying and selling NFTs
Pros:
Unique, premium art collections
Investment opportunities
No gas fees
Compatible with USD US Bank accounts and cryptocurrencies
Cons:
Recent reports from users of hacking
Only accessible to reputable artists (not for beginner creators)
4. Rarible

Rarible was founded by Alexander Salnikov, Ilya Komolkin, and Alexei Galinin in 2019. It's since become quite popular, as seen by its 1.6 million users and hundreds of million dollars in revenue. You can find various NFTs, including domain names, games, memes, music, digital art, and more.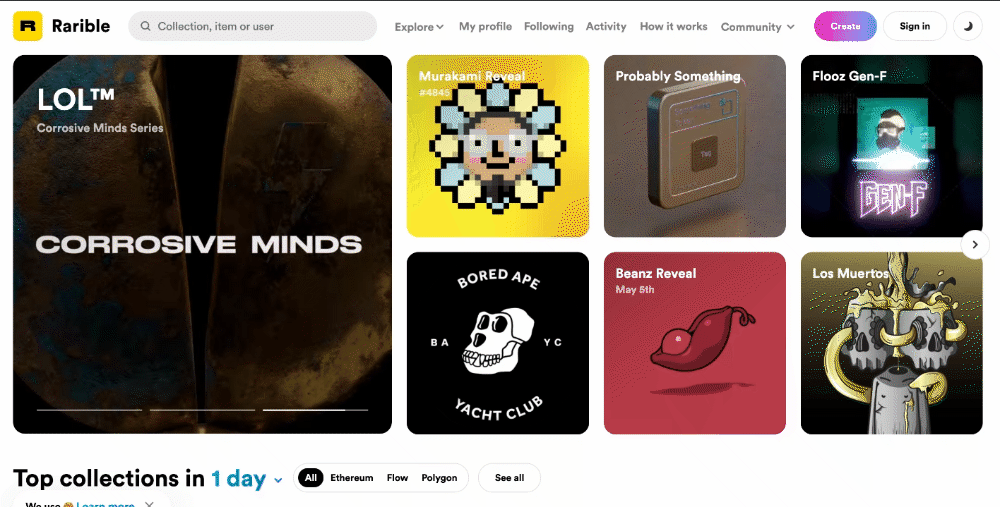 It's a beautiful, inspirational website.
Features:
Buying and selling NFTs
Creating NFTs
Minting NFTs
Bidding
Ethereum blockchain tokens supported
Voting powers
Native Rari coin supported
Pros:
Large Rarible community on Telegram, Discord, Facebook, and Twitter
Rewards and voting powers for users
Favorable royalties system
Easy-to-use platform
Cons:
2.5% fee for transactions
An extensive and drawn out registration process
Only accessible to Ethereum cryptocurrency holders
5. SuperRare

SuperRare is one of the most exclusive NFT marketplaces around, only allowing high-quality NFTs from carefully vetted artists on the platform. Renowned artists will enjoy generous commissions and royalties, while NFT connoisseurs can pick from thoughtfully curated collections.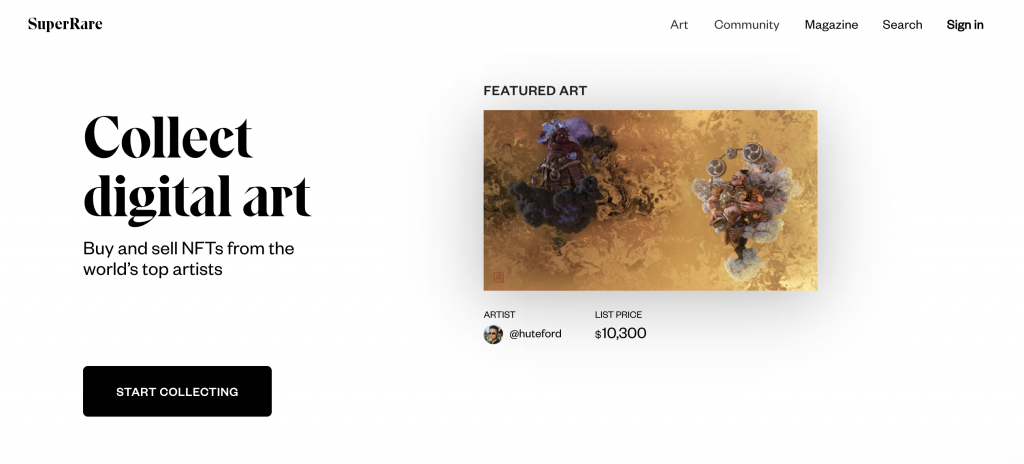 If you're looking for high-end tech and luxury, this is the best NFT marketplace for you. The average selling price for NFTs on SuperRare is a whopping $4,000.
One major setback for SuperRare is its gas fees for Ethereum transactions.
Features:
Limited edition, SuperRare Spaces
Ethereum blockchain
Buying and selling NFTs
Creating NFTs
Minting NFTs
Bidding
Ethereum blockchain tokens supported
Pros:
Limited creators accepted, meaning a low risk of fraudulent work
Supreme, high-quality NFTs
Reputable partnerships in the traditional art world, like Miami Art Week
Cons:
3% fee for transactions
Not suitable for beginner creators or NFT investors
Only accepts Ethereum
6. DraftKings Marketplace

DraftKings is a company that provides a site for online game playing that is similar to daily fantasy sports. It's a popular way to gamble, but it can also be a great way to buy NFTs. Their DraftKings Marketplace enables you to buy and sell sports NFTs.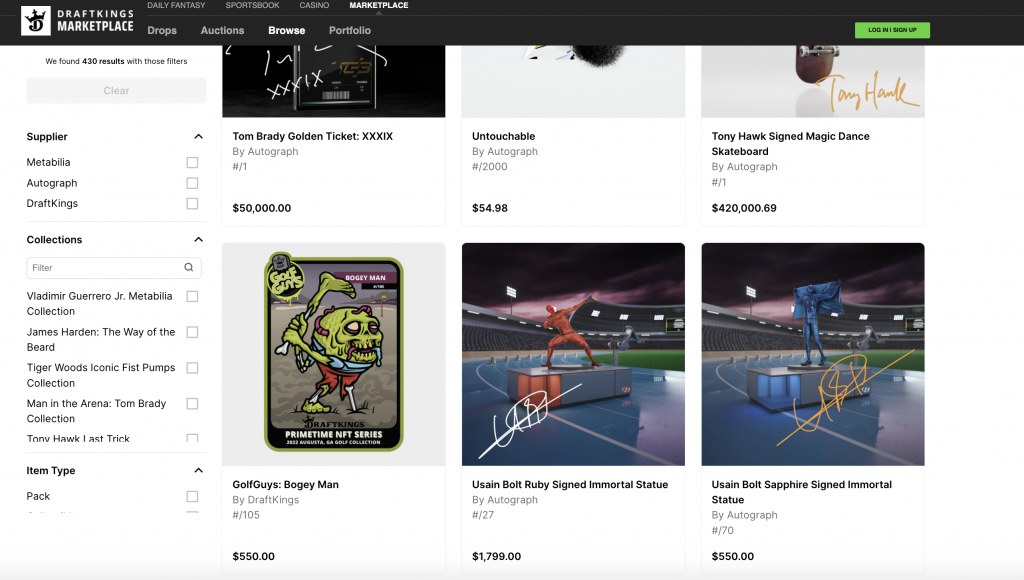 You can buy assets featuring Tom Brady, Naomi Osaka, Tiger Woods, Usain Bolt, Rob Gronkowski and more.
Features:
Limited edition assets across the sports space — modern day trading cards!
Assets on Ethereum blockchain
Also has fantasy sports and a casino
Pros:
Limited creators accepted, meaning a low risk of fraudulent work
Supreme, high-quality NFTs backed by a large public company
Reputable partnerships with athletes you know
Cons:
Wrapping up on NFT marketplaces
Like I said, NFTs are fun. There's a reason people are flocking to them as a new place to put some money. Especially when you consider the stock market's inconsistency over the last 12+ months, diversifying your portfolio with <10% alternative assets like NFTs is reasonable.
I love NFTs because:
They're liquid: meaning they're buyable and sellable at any time on the NFT marketplaces.
They're fun: If you're looking for a fun way to diversify, owning a digital work of art is a good way to do it.
Try an NFT marketplace if you like what you've heard in this post. Tell me what you think in the comments!