Latest posts by Hailey Friedman
(see all)
All You Need to Know About Choosing the Right Marketing ETL tools for your business
In the modern world, data is immensely important, particularly when it comes to marketing. Companies in all the different sectors use data in many ways.
Consumer goods are manufactured, distributed, and sold based on customer priorities. Energy companies use data to increase the efficiency of their extraction and distribution systems.
The amount of data available in the world can be overwhelming, especially when you are figuring out how to manage it in the context of your business.
Luckily Marketing ETL, or Extract, Transform, and Load programs are helping people like you manage that data effortlessly.
ETL programs make sure that all of your data is available in the format that you need it in to effectively market your products.
A lot of teams debate whether to build or buy a solution. There is a long list of pros and cons to each so I highly recommend reviewing this guide here before you decide.
Let's take a closer look at the different marketing ETL tools available in the market today and how you can choose the best one for your marketing needs.
Understanding the Role of Marketing ETL Tools
The goal of ETL tools is to extract data from a variety of different sources, transform that data into a uniform format, so that each set can be understood in the context of the other, and load the data into a single place. This is particularly useful for marketing data.
I mean, take a look at your tabs right now. Seriously. How many of them are different sets of data, different formats, and all around different information?
Wouldn't it be nice to see that all in one dashboard, all automatically updated so that you can focus on strategizing and reacting to the data accordingly? That is what ETL tools are for.
Why Use ETL Marketing Tools?
With Big Data transforming the world, previous data warehousing techniques are being rendered ineffective. There is simply too much information out there.
And for marketers, who rely heavily on data for all of their decision-making, it's important to figure out how to manage and react to the vast amounts of data out there.
This is particularly difficult because data is housed in so many different places.
Aggregating and uniforming the data you need is a lifesaver, and tools that allow you to do that are essential. ETL tools enable this sort of aggregation.
They allow you to stop wasting your time organizing, and start acting on the information that data provides.
The dashboards that ETL tools can create are invaluable to the marketer. Below are some of the best ETL tools out there, and how you can utilize them.
The Best ETL Marketing Tools
1. Improvado
Improvado is the best marketing ETL tool we've seen to date. It has an extremely usable graphical interface, and allows you to incorporate all of your data from all of your different marketing channels in one, aggregated location.
Improvado allows you to stop thinking about how you're going to get data insights, and start acting on the information your data provides. The software helps summarize key marketing KPIs, allowing you to move faster on this information.
Pros of Improvado:
Super easy, super user-friendly customizable dashboard
A drag and drop tool that makes it easier than ever to form your database schema
With over 100 different integratabtle softwares, the sky is the limit to your data collection
The visual platform allows you to see your data in its physicality, a huge help in uncovering marketing information to fuel your campaign strategy
Cons of Improvado:
To be honest, there aren't many. Improvado is one of the best tools out there and working with their team is a breeze.
Learn more about Improvado here.
2. Xplenty
Xplenty is another ETL marketing tool. It's marketing platform allows you to integrate, process and prepare data for analytics on the cloud.
The dashboard at the homepage of Xplenty software is a snapshot of the whole ETL system. This page shows software accessing the databases, the analytical tools that can be used to manipulate that data and a user control log as well.
Pros of Xplenty
Easy to navigate graphical user interface

The software is segregated into multiple useful segments which include:
Dashboard

Expression editor

Schema

Reporting tool
Cons of Xplenty:
Users would benefit from a nested API capability if included in the software.

Error messages are not always descriptive enough.

Incremental data transfer can be a challenge
Watch the video of this software here.
3. Alooma

Alooma is another great Marketing ETL tool. Alooma provides various end-user utilities, including live data streaming display on the center and a coding bar on the right.
The default menu buttons allow users to perform the most useful tasks, including changing the settings and viewing the dashboard. Alooma is one of the most popular tools to accumulate databases, applications, and APIs together in one place.
Alooma is a one-stop shop for companies looking to migrate their data on to the cloud after cleansing or normalizing it for efficient retrieval of records. It helps users to deduplicate, and enrich data from multiple resources for a client's numerous needs.
The software uses state of the art technology to integrate and transform data so that it is user-friendly.
Pros of Alooma:
The software works well with multiple data sources.

One window operation for managers to analyze and manipulate all data sources.

Allows easy replication of popular databases available in the market.

Real-time monitoring of any issues in the database.

Automatically detects the schema of a database.
Cons of Alooma
GUI is a little advanced for first-time users.

Debugging module is less friendly than other software available in the market.
Pricing of Alooma
Alooma pricing is tiered, based on usage and the sensitivity of the data being collected. The lowest package starts at $20 and can go up as the level of sophistication and data usage increase.
Some things that can affect the pricing plan include the level of software platform access, connectivity requirements for data transfer along with security and compliance.
You can find the video of this software here.
4. Apache Nifi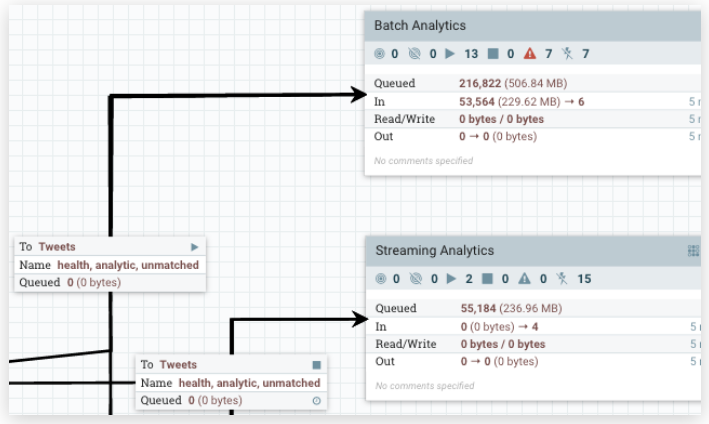 Apache is one of the fastest and most secure marketing ETL tools available in the market today.
Built on open source technology, Apache has been modified over time to provide seamless data integration and manipulation experience for its users. ApacheNifi is a highly configurable program and allows users to make appropriate changes as and when desired.
Pros of ApacheNifi:
Data streaming from an external database is quick, convenient and easy.

Data migration status displayed on the screen.

The software can accumulate information from social media pages like facebook and twitter.

Visual interface quite useful in manipulating and analyzing data.

Cons of ApacheNifi:
Users take some time to get accustomed to the open source interface.

Open source technology means new plugins are being introduced every day.

Pricing of ApacheNifi:
Online vendors provide Apache Nifi services on per hour basis. Depending on the size of the organization and amount of data, this software as a service can cost anywhere from $0.273 per hour to nearly $6 per hour.
You can find a video of this software here.
5. Starfish
Starfish is another great ETL marketing tool, specifically because of its customer insight capabilities.
Starfish helps companies enhance their customer targeting by accumulating data from their CRM to gain insights about their customers. The system extracts sales and other customer data from the CRM module and then links that data to support functions including finance and operations.
The Starfish dashboard is easy to use and helps users generate useful reports for running effective marketing campaigns and launching new products.
The software is quite useful for companies that depend heavily on customer feedback. Information from customer-centric social media pages like Facebook and Twitter is relayed on to Starfish ETL system, which is then used to develop new product strategies.
Pros of Starfish:
Easy to use and simple to understand.

Flexible and robust system, easily integrable with any database.

A dedicated team of support professionals to resolve user queries.

User feedback is taken in to account to make improvements in the software.

Cons of Starfish:
The system not efficient enough for a large migration of data.

Pricing of Starfish:
The Starfish software is priced based on cloud and online migration services. Cloud migration starts from $495 per month while on migration pricing plan starts at $1495 per month. There are dedicated pricing plans available for CRM integration as well. These are based on the size of the organization and can go up to $1000 a month.
6. Jasper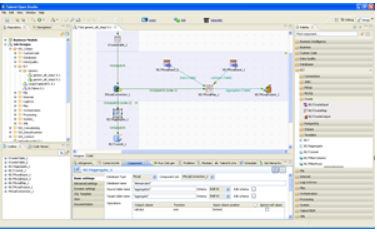 Jasper is one of the most robust business intelligence solutions available in the market today. This ETL marketing tool can easily integrate with some of standard data management systems including Hadoop, Google Analytics, and Cassandra.
Jasper can be acquired as software as a service (SAAS) as well. This means that the tool is hosted on the cloud and users can perform all their data manipulation operations without deploying it on site. This makes Jasper one of the most affordable ETL marketing solutions in the market, costing nearly $1 per hour on AWS.
Jasper comes with multiple predefined reports that are viewed when required. The software engineers at Jasper soft have also introduced a smartphone app that allows users to keep a check on their data from anywhere at any time.
Pros of Jasper:
Great web interface with dynamic and colorful reports.

Can connect with non-standardized SQL data sources as well.

Various diagnostic resources available for quick fixes in the software.

Helpful customer support staff.
Cons of Jasper:
Knowledge of XML required for adding customization to the tool.

Frequently used as a SAAS which may require high bandwidth.

Does not contain predictive analytics tools.
You can find a video of this software here.
7. Relational Junction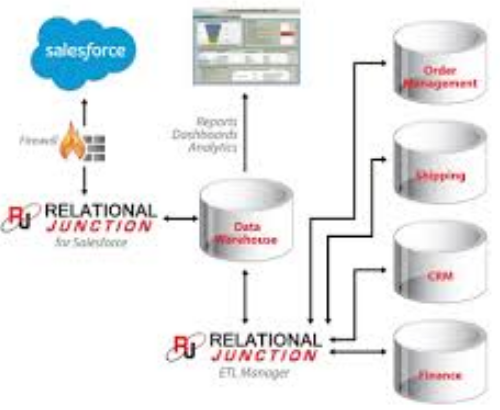 This ETL marketing tool is one of the best when it comes to ease of use and bandwidth efficiency. Relational junction uses classic SQL based data retrieval architecture to make the ETL process quick convenient and easy. The system can access multiple types of data platform based on different platforms including XML, Google Analytics and other online databases.
The Relational junction's JDBC interface allows it to easily communicate with on-premises, cloud as well as unstructured databases.
Pros of Relational Junction:
Easy to install and deploy on-site or on to the cloud.

Support staff quite helpful in resolving queries.

Quite configurable and easy to sync with databases like salesforce.
Cons of Relational Junction:
The front page is very simple and lags some useful but complex tools.
You can find a video of this software here.
8. Parabola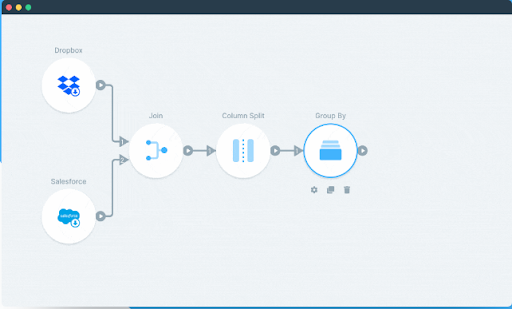 Parabola is one of the most interactive ETL marketing tools available in the market today. The user interface on the front page is straightforward to use. It allows users to drag and drop different databases from a sales force database to an excel file to a drawing board.
Once all the different data resources are available on screen, they can be linked together to form a database schema. This is then used by the administrator to gain useful insights into many different business elements including sales performance and business excellence.
Pros of Parabola:
One of the best technical support teams in the market.

Front page display makes sophisticated data extraction look easy.

Easy to understand for users with minimal data analytics experience.

No need to hire a dedicated resource to operate this tool.

Allows users to prepare complex reports in no time.
Cons of Parabola:
Some attractive features missing including a live streaming display.
Pricing of Parabola
Parabola is one of the cheapest options available in the market today. The software provider offers a free plan as well which includes a dedicated link to a single data resource of the client's choice. Premium packages start from $9 a month. The price may vary based on the size of the organization, the number of rows being analyzed, and the frequency of data migration.
You can find a video of this software here.
9. Talend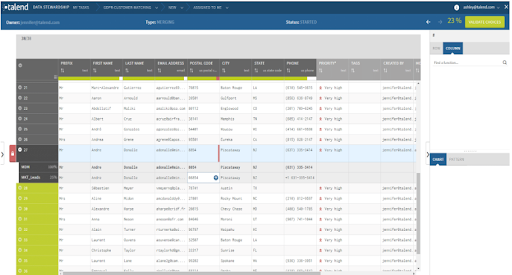 This software comes with some of the best integration and data management utilities available in the market today.
Talend is an ETL marketing tool famous for its versatility of use. It is able to interface with some of most renowned cloud service providers including Amazon's AWS, Google cloud, and Microsoft Azure. The company works with industry leaders in many different sectors and provides cutting-edge software technology for data integration, big data access, and data enrichment.
Pros of Talend:
The software can work with different formats including XML, JSON, and CSV.

Can easily connect to databases on different platforms.

JAVA technology allows users to integrate multiple scripts from libraries around the world.
Cons of Talend:
High level of customization may require expertise in JAVA.
Pricing of Talend
Talend has different pricing models including an open source one which is available to users all over the world for free. The service fee can go up to nearly $1000 a month and can be hosted on local premises or on the cloud.
You can find a video of this software here.
10. Domo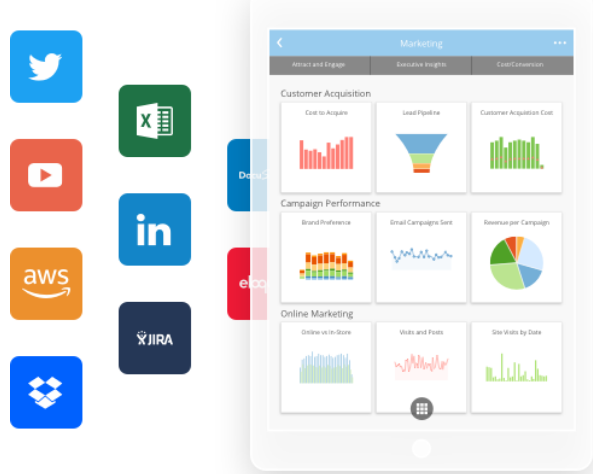 One of the most cohesive analytics software available in the market today, Domo gathers data from multiple resources and platforms, providing users with a friendly interface to make sense out of that data. Using this ETL marketing tool, businesses can create a user-friendly interface amongst multiple parts of their organization from vendors to staff to clients.
This software can be completely hosted on the cloud and operated conveniently from a smartphone device.
Pros of Domo:
Does not require a lot of bandwidth for data transmission.

Used by some of the most powerful brands including DHL and National Geographic.

A complete operating system for helping companies in making real-time decisions.

Uses machine learning to make smart decisions for the business.
Cons of Domo:
Primarily designed for corporate users, individual users can be overwhelmed with a lot of options in the software.

Managing datasets can sometimes be complicated.
Pricing of Domo:
This data management operating system comes with a couple of pricing options for professionals and enterprises. The two plans vary based on the amount of storage required by the company. Users can go opt for a free trial of the software before making their selection.
Watch the video of this software here.
11. Datorama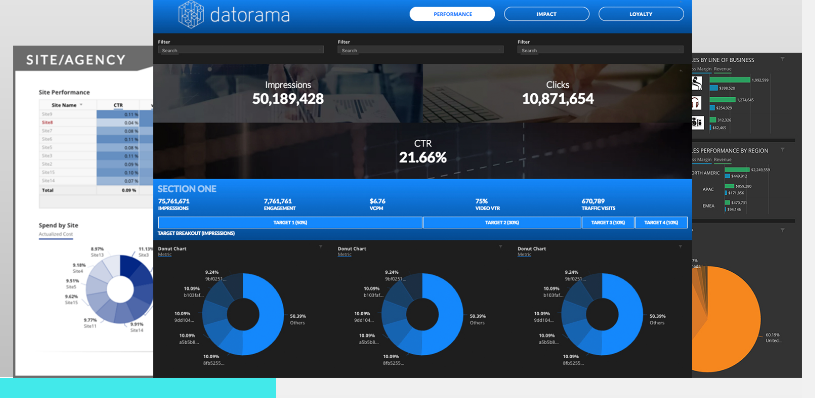 Datorama is an ETL marketing tool that employs a holistic approach for accumulating a company's marketing data, pulling from multiple resources to help you run effective sales and business development campaigns.
One of the most essential features of this software is its AI framework, which performs complex calculations using a large amount of data to help businesses in acquiring new customers and retaining their existing ones. The three main engines of the software include data integration, activation, and insights.
Pros of Datorama:
Extensive report options on software dashboard.

A centralized system for integrating multiple modules including CRM and digital advertising.

Easy to use interface for platform integration and data analysis.

Real-time automation through artificial intelligence.
Cons of Datorama:
Some users prefer to pay per client rather pay per user pricing plan.

Software configuration can be tricky for first-time users.
Watch the video of this software here.
13. Supermetrics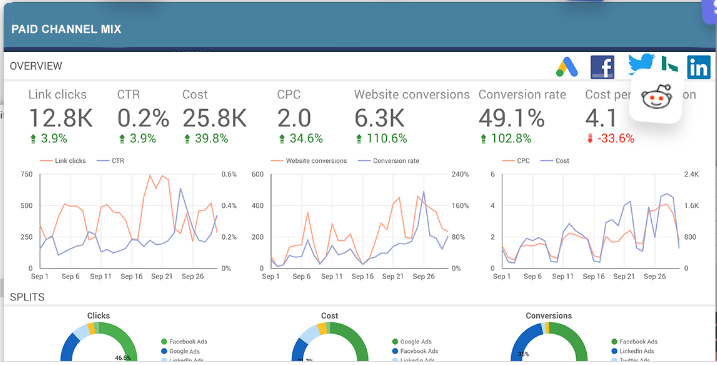 Supermetrics ETL marketing tool is recognized as one of the most advanced tools for digital markets anywhere in the world.
Supermetrics allows users to gather useful data from many social marketing avenues including Google Ads, Facebook home page and other social media pages. The data can be gathered into google sheets and the analytics module Supermetrics can provide useful insights about customer choices on a particular product or service.
Pros of Supermetrics:
Comes with a colorful and easy to manage dashboard.

Focuses on insight reviews rather than report generation, which saves time for the user.

Easily integrable with nearly 50 different types of data management platforms.

The best tool for defining social media marketing KPIs
Cons of Supermetrics:
Some bugs are hard to troubleshoot on your own.

Insights page may display too much information at one time.
Pricing of Supermetrics:
There are multiple pricing plans available to users for this product. The plan for google sheets starts from $69 while for the data studio plan starts from $19 on a monthly basis. Incorporating enhanced functionality may cost users some extra bucks.
Watch the video of this software here.
14. Adverity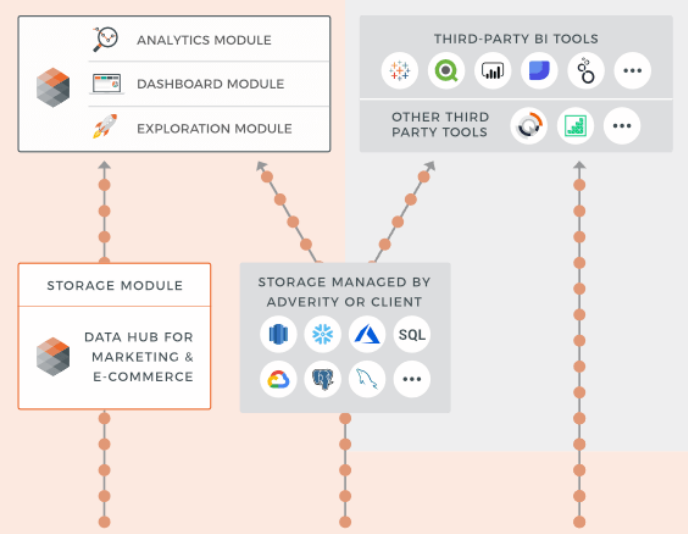 Adverity is one of the most popular ETL marketing tools available in the market for visualizing the operational, marketing and e-commerce data from multiple resources.
Using this software, clients can effortlessly migrate their data from a variety of resources and use it to gain some useful insights about their business. Adverity is focused on providing business managers with tools that help them in serving their clients in a better fashion than before.
One of the most essential elements of this data analytics tool is it allows users to export data from Adverity to any other platform as per their specific needs. The insights gathered through this software can be used to develop effective KPI for any business model.
Pros of Adverity:
Convenient and fast data analysis.

Easy to use front-end interface.

Great team of software engineers and technical support staff to resolve queries.

Efficient reporting tool for design new report templates.
Cons of Adverity:
May require some time for new users to learn about sophisticated features.

Missing a smartphone app.
Watch the video of this software here.
15. Funnel.io

Using data from nearly 405 different resources, Funnel.io's ETL marketing tool can provide seamless integration between all of your marketing and advertising channels.
Once the data has been collected, it is cleaned in the most effective manner and finally transformed into normalized tables. The information is then used by business executives to make important business decisions based on facts and figures.
Pros of Funnel.io:
Helps in controlling advertisement expenses.

Data can be easily exported into excel reports for further analysis.

The customer support team is quite effective in resolving various types of client queries.

Can integrate with multiple ad platforms making data collection quick, convenient and easy.
Cons of Funnel.io:
Users of the software suggest that migration process should run more frequently for data updates.

API changes in other channels are not updated in the software directly.
Pricing of Funnel.io
Funnel.io services are offered based on the scale of use. Multiple packages are offered by the company starting from a standard $299 per month to Enterprise level solutions which are customized per the client's requirement.
Watch the video of this software here.
Conclusion
ETL marketing tools are the need of the hour for any organization that wants to make a substantial impact in the 21st century. The cutting-edge data transformation and migration tools allow users to interconnect many different platforms including social media web pages, data sheets, and end-user computers.
Companies need to make the best use of data to gain a competitive edge in the online and local market. This helps with understanding the needs and wants of their customer. While deploying an ETL marketing tool at your organization, its important that you do a good amount of homework to select the option that is the best for your specific needs.