Head of Marketing
at
PlushCare
I'm the head of marketing for a tech company in San Francisco and the cofounder @ GrowthMarketingPro.com
Latest posts by Mark Spera (see all)
WP Engine is one of the many web hosting solutions that allows you to display your website to the world. The difference between WP Engine and other solutions is that WP Engine specializes in hosting WordPress sites.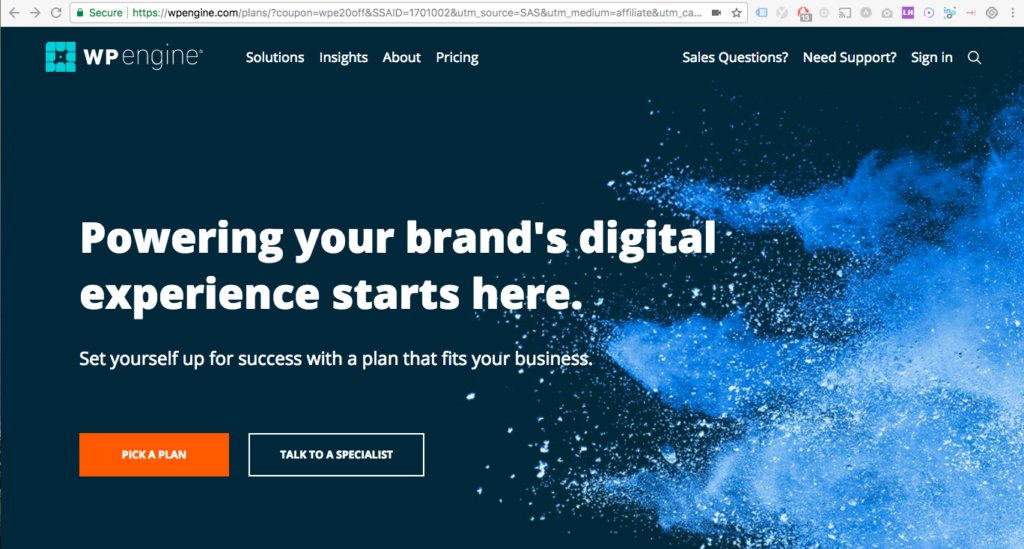 I started really noticing WP Engine recently when it was announced that they had raised $250 million from Silver Lake, a prestigious private equity firm that is also an investor in web hosting giant, GoDaddy. While I despise GoDaddy for hosting, I was still quite interested in WP Engine.
Why Do You Need Web Hosting?
When it comes to blogging, WordPress is the biggest and maybe only important show in town. WordPress is free. But hosting a WordPress blog isn't.
Web hosting is the plumbing of your website — it ensures your site is viewable on the internet by anyone. Like a referee, the best web hosting solutions are the ones you don't notice.
Apparently, more than 500,000 web properties run on WP Engine.
So when I heard about WP Engine, I could resist creating my own WordPress site using this red hot service.
For more on blogging platforms, read Top 10 Best Blogging Platforms.
WP Engine Review
With that as context, I decided I would make a WP Engine site in order to see if it is as simple as advertised. My test was to make a website with WP Engine in 10 minutes. I had never used the tool, so I was expecting a learning curve. 10 minutes felt like an ambitious speed to put a website on the internet.
Continue reading for the result of my experiment, my WP Engine review, pricing information and the coupon code.
FYI, the site I made in this experiment lives on markspera.wpengine.com — but note that I don't want to pay WP Engine for that site to live forever — so by time you read this it may be dead.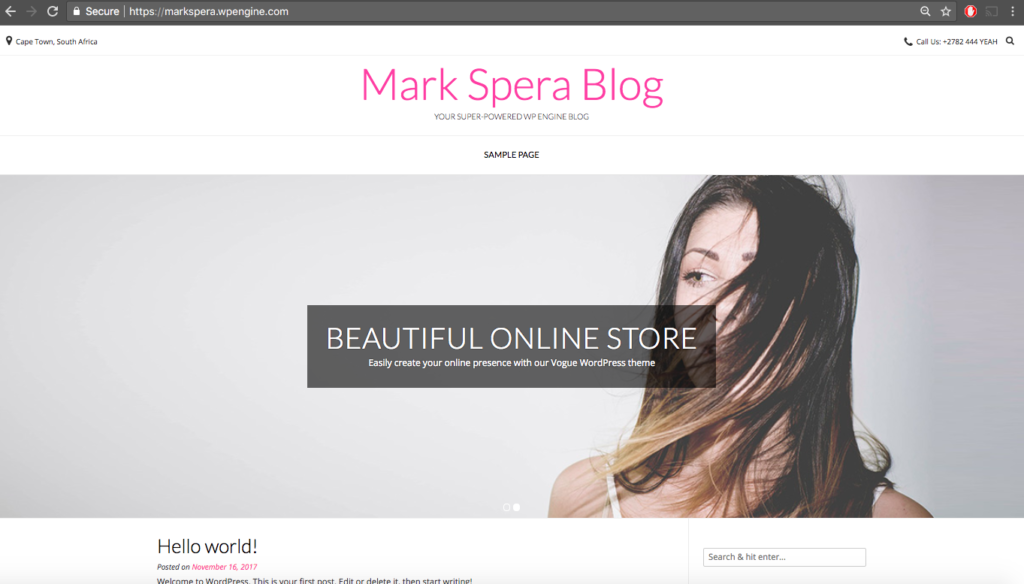 Ease of Use – 5/5
In order to make a functional blogging website in 10 minutes, WP Engine would have to be easy.
I found it to be very intuitive. I breezed through the signup steps, selecting the "personal plan," putting in credit card info and then getting to the admin panel in just a few minutes.
While I didn't use this feature, it appears you can easily migrate your WordPress site from an existing host. This is nifty, in case you already have a blog but are not satisfied with your web hosting solution.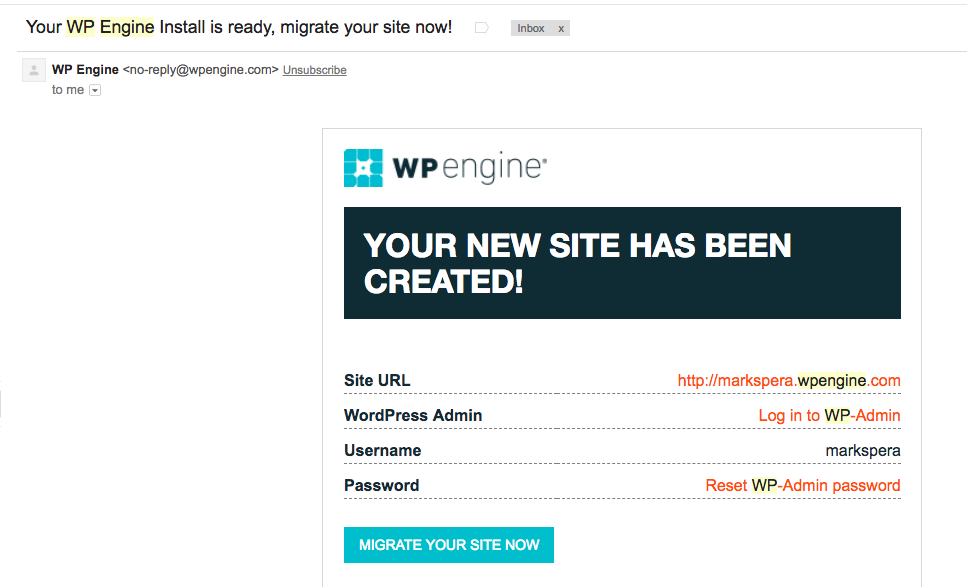 Support – 5/5
There's no question that web hosting support is important. If you're serious about your blog and it goes offline for a period of time, you're going to be perturbed if you can't get customer support on the line to explain.
I've found GoDaddy to be pretty irritating in this regard.
In order to figure out if WP Engine's hosting customer support was solid, I contacted support via the live chat feature. To my delight, Support Agent, Andy responded within a couple minutes to my question and helped me locate what I was looking for in the dashboard.
In the world of blog web hosting, this sort of support is quite good.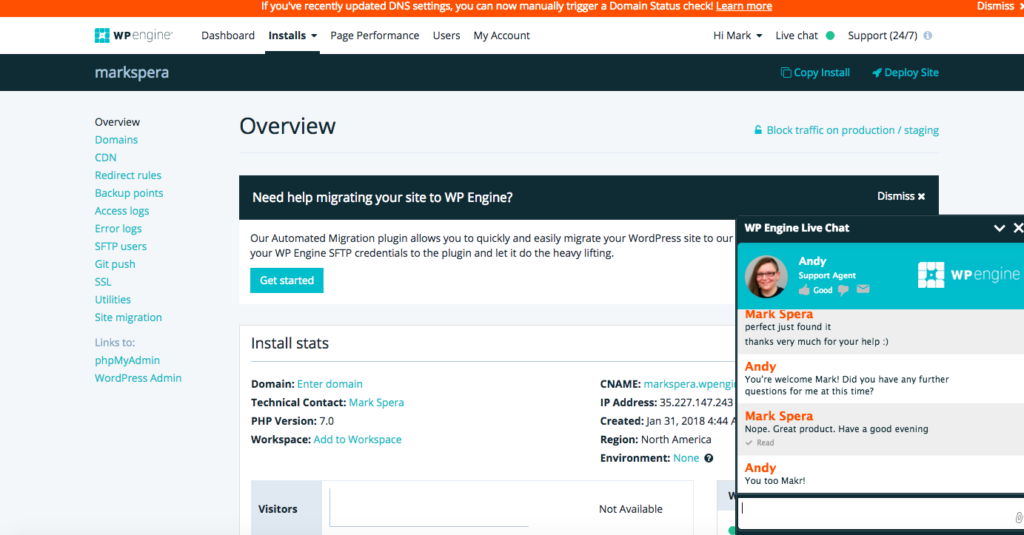 Note that you will only get phone support with the Professional Plan. Otherwise you will need to operate with live chat and email support.
Other Stats – 5/5
As far as uptime, WP Engine seems great. They advertise nearly 100% uptime on their blog and I haven't found anything to the contrary.
I've been running markspera.wpengine.com for 3 months and have been monitoring uptime using a tool called UptimeRobot. I haven't seen any downtime yet.
The Price is good. As far as blog hosting goes it's right in the middle. You can get cheap hosting, but you get what you pay for. WP Engine is fairly priced for great uptime, easy setup, dedicated customer support, free SSL certificate and 60 day money back guarantee.
Conclusion
I was pleasantly surprised. I was able to make a functional blog hosted by WP Engine in 9 minutes 31 seconds — start to finish.
While I don't think WP Engine is game changing, it seems to be one of the easiest and most stable hosting solutions for your WordPress blog.
I will be starting all my future blogs with it.
WP Engine Pricing
As with most web hosts, WP Engine has different tiers of pricing.
For my test, I opted for the "personal" plan. If you are just starting out your blog, you should opt for this plan. If you think you will scale pretty quick — because you're a fast growing startup or you have an email list with which you can direct users to your blog immediately, you will want the "professional" plan.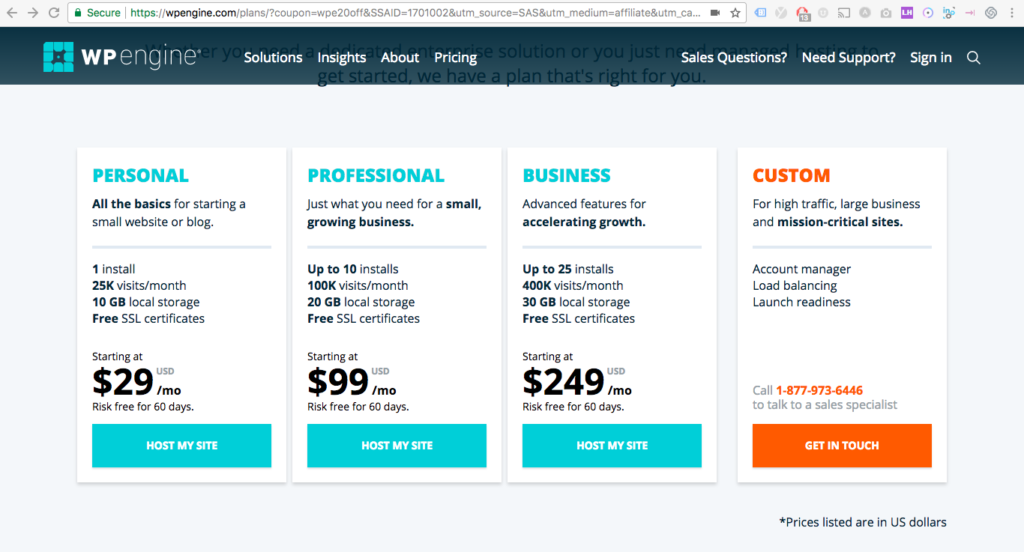 Personal Plan
1 WordPress website
25,000 visitors per month
10 GB storage (which should be fine for a personal blog)
Free SSL certificates (which you should have on any website)
Price: $29/month
Business size: small business or personal blogs with low traffic
Professional Plan
Up to 10 WordPress websites
100,000 visitors per month
20 GB storage
Free SSL certificates
Price: $99/month
Business size: startups or blogs that will grow fast
Business Plan
Up to 25 WordPress websites
400,000 visitors per month
30 GB storage
Free SSL certificates
Price: $249/month
Business size: medium-to-large businesses in scale mode
How to Set Up WP Engine
WP Engine set up was pretty easy. To see the PDF version of the setup click here: WPEngine Setup
Or get started by reading on. I did it fast the first time through (9:31 to be exact!) but I went back and did it again, taking screenshots. Learn how to set up WP Engine yourself.
Get started! If you're ready to get started click here to get 20% off WP Engine. It took me 9 minutes and 31 seconds! When you click through you'll land on this page.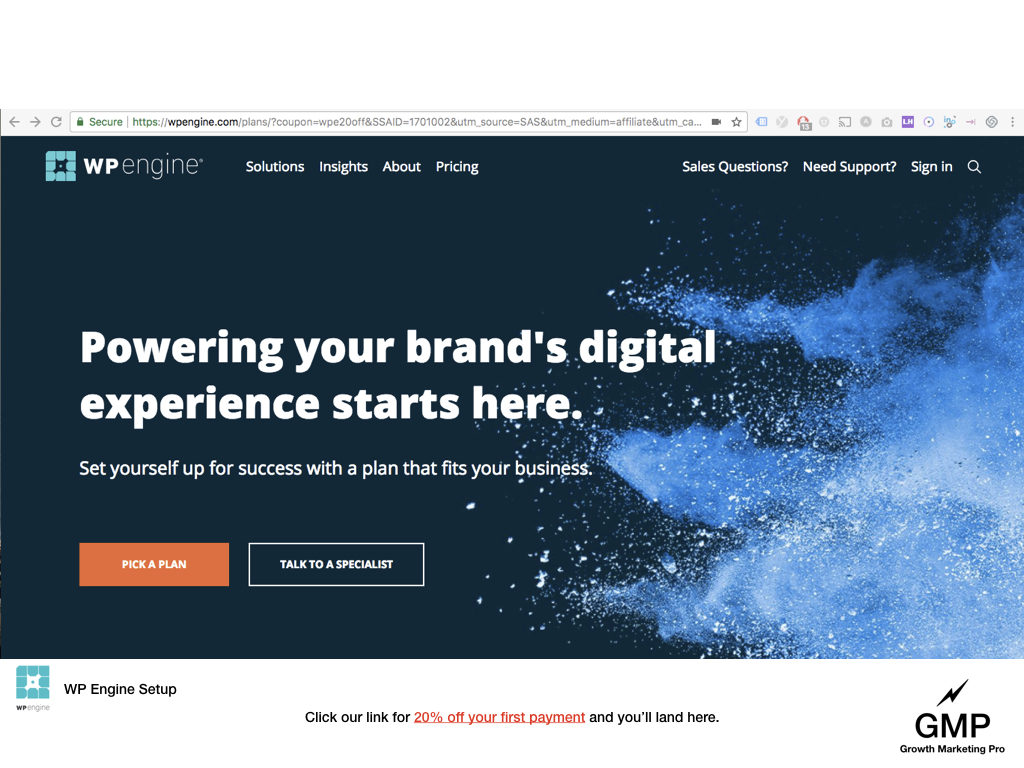 2. Click "Pick a Plan." Pick the plan that suits your needs. I suggest "personal" or "professional." Personal should be just fine if you are "testing the waters" or this is a blog that won't get heaps of traffic right away.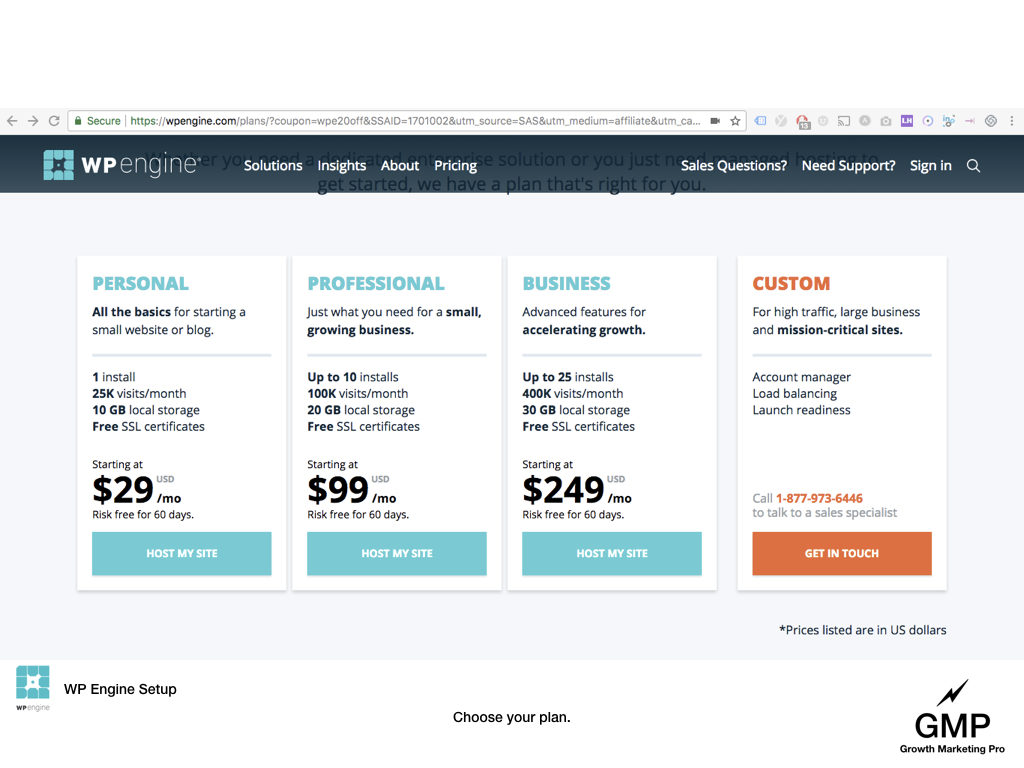 3. Choose your subscription.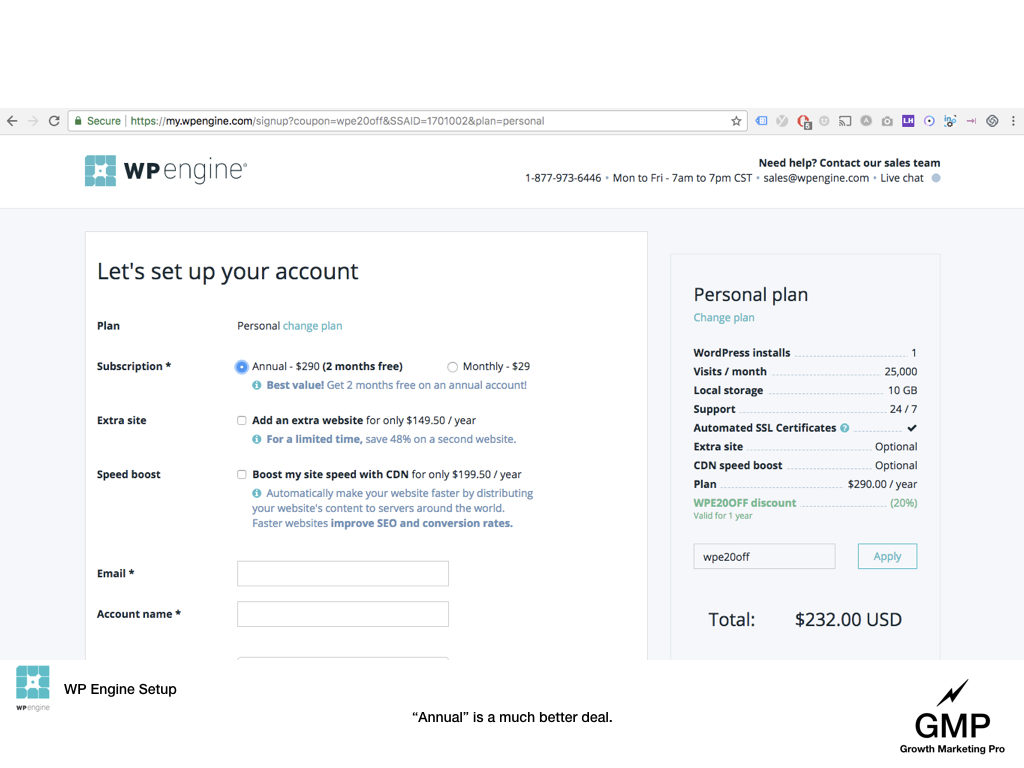 4. Input your billing info.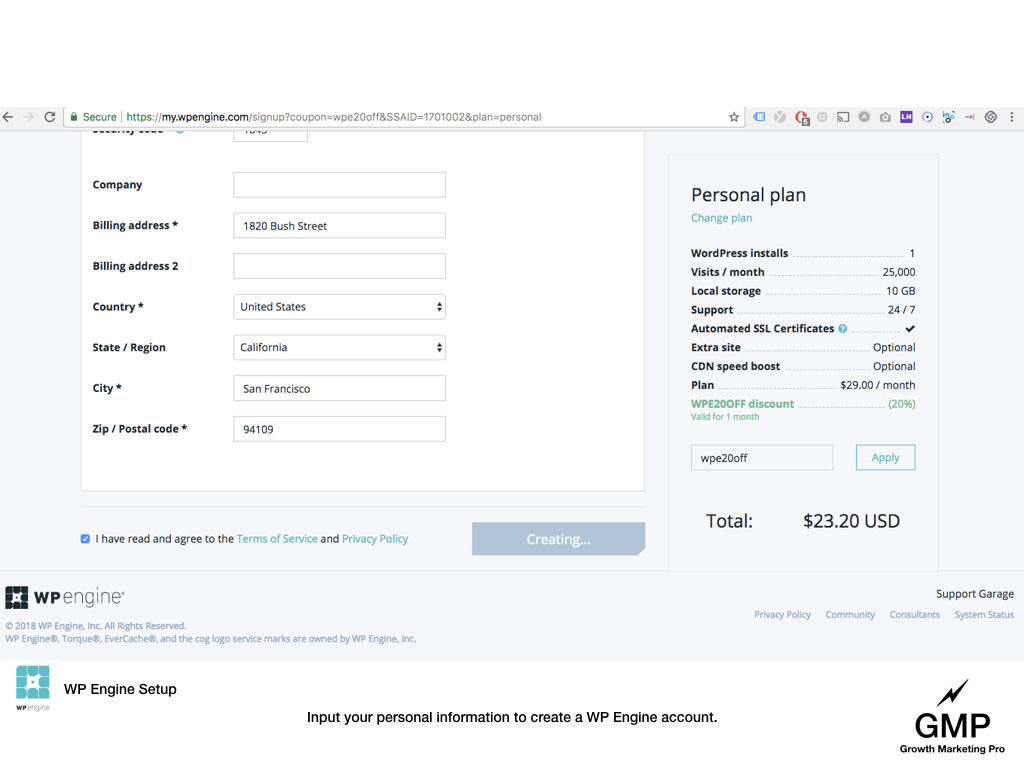 5. Put the rest of your info in.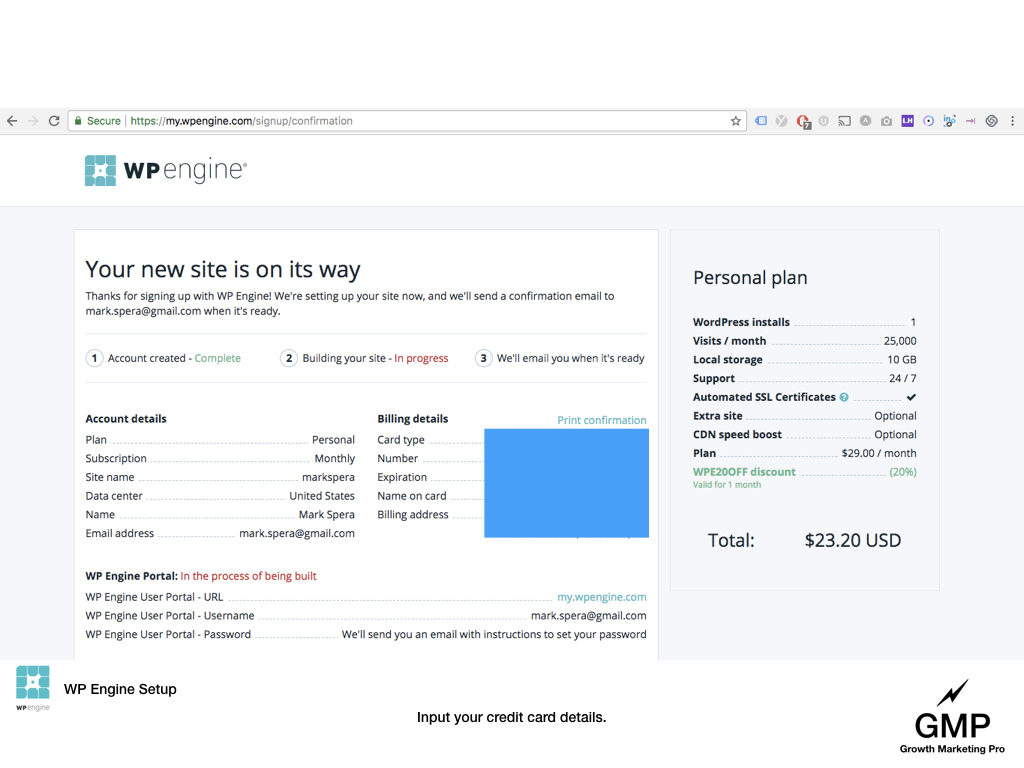 6. Go to your email account and see the email that WP Engine just sent to you. Click "Accept the invitation."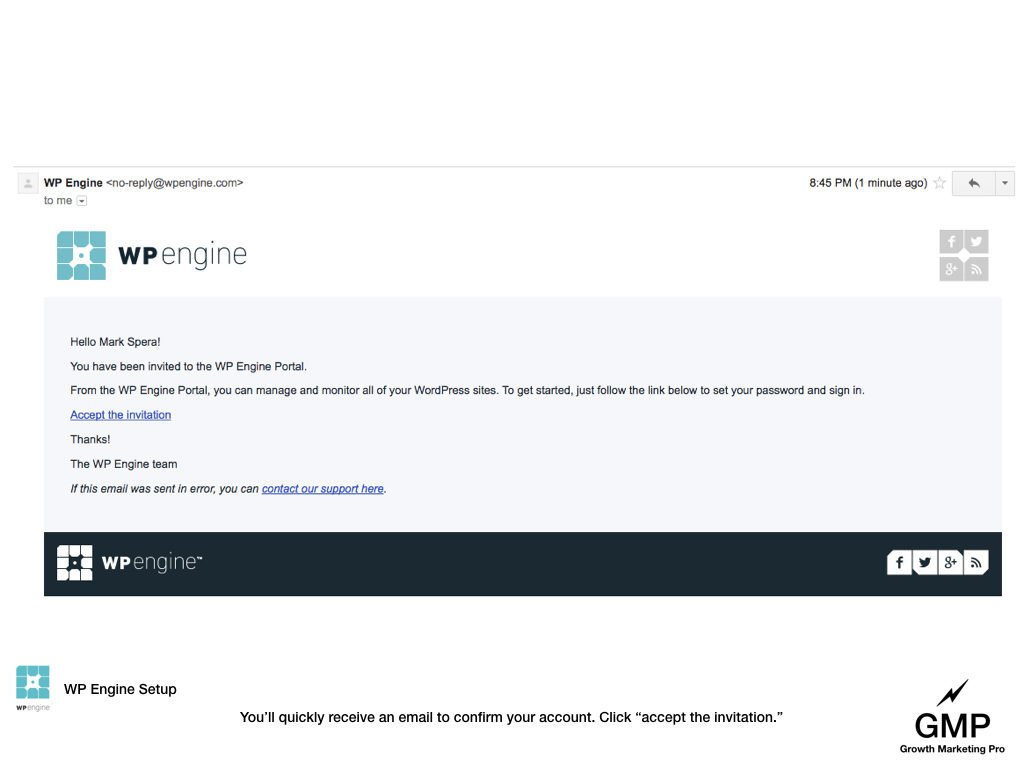 7. Create a password.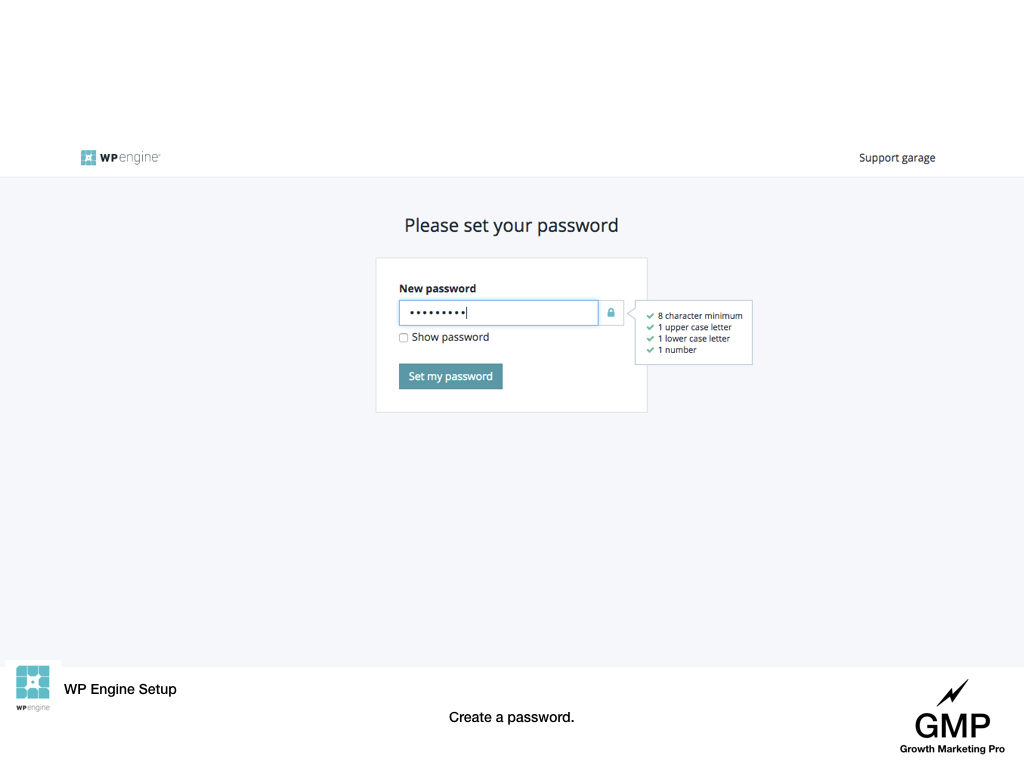 8. Pause there. You will be brought to the WP Engine dashboard. This is the hosting account for your WordPress site. But don't take any action here. Go back to your email!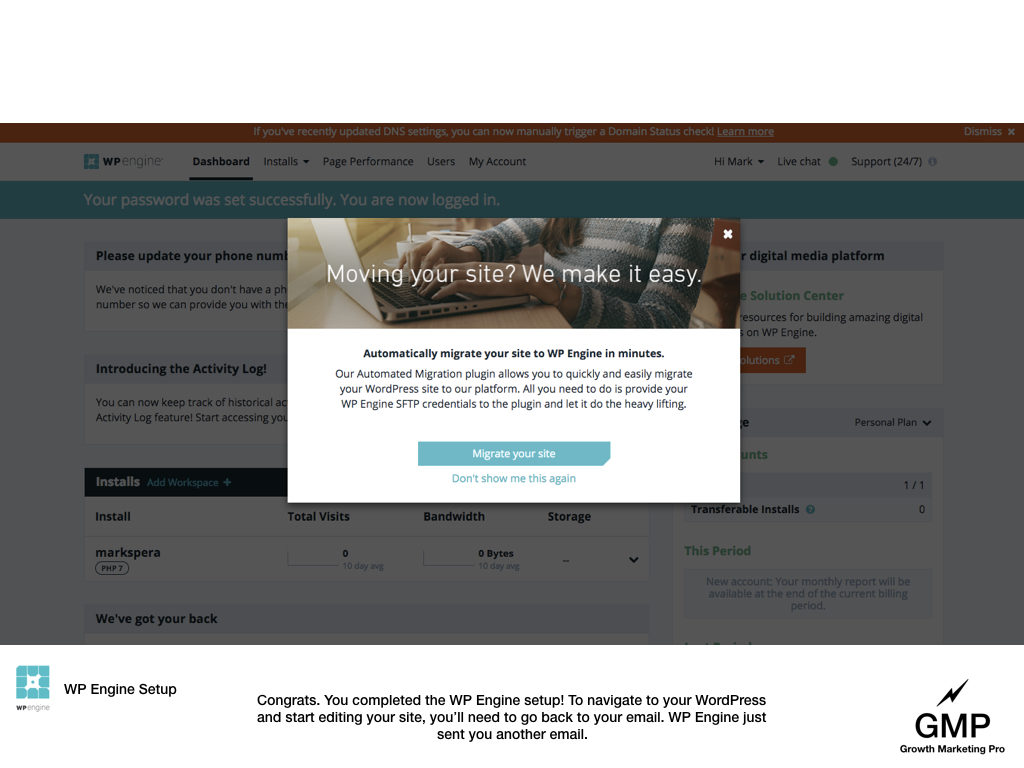 9. Find the most recent WP Engine email in your inbox. Click "Log in to WP-Admin."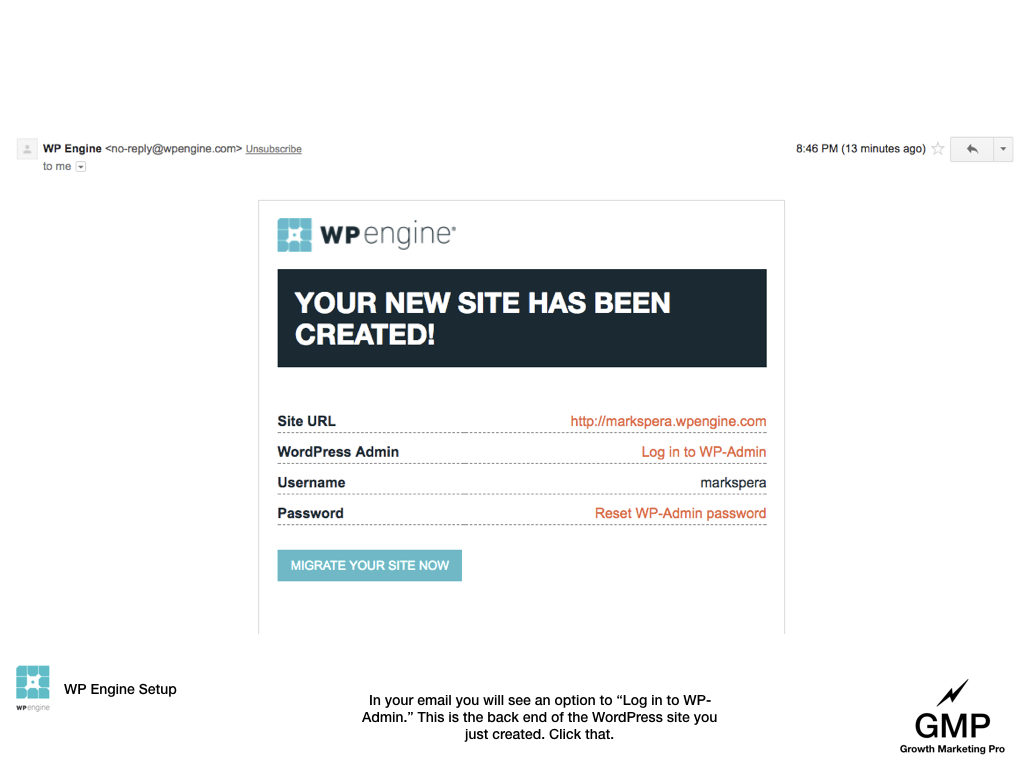 10. Create a WordPress account if you don't have one. You'll be dropped in the back end of your WP Engine WordPress blog.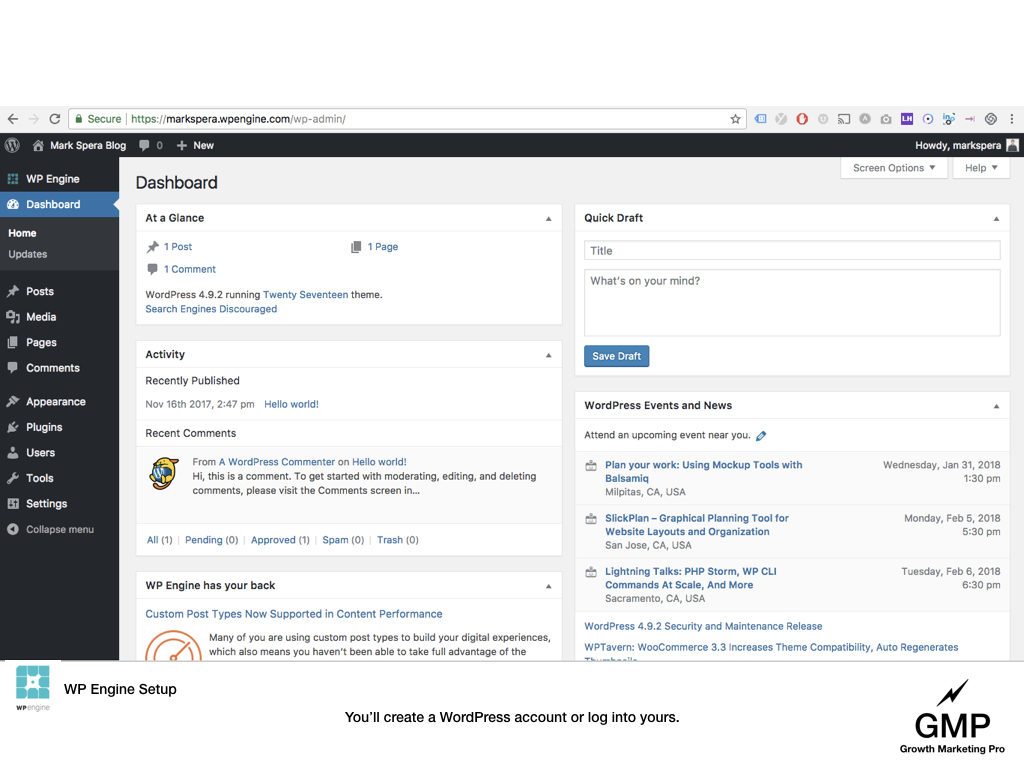 11. Click "Appearance" and "Themes" to change the look and feel of your blog.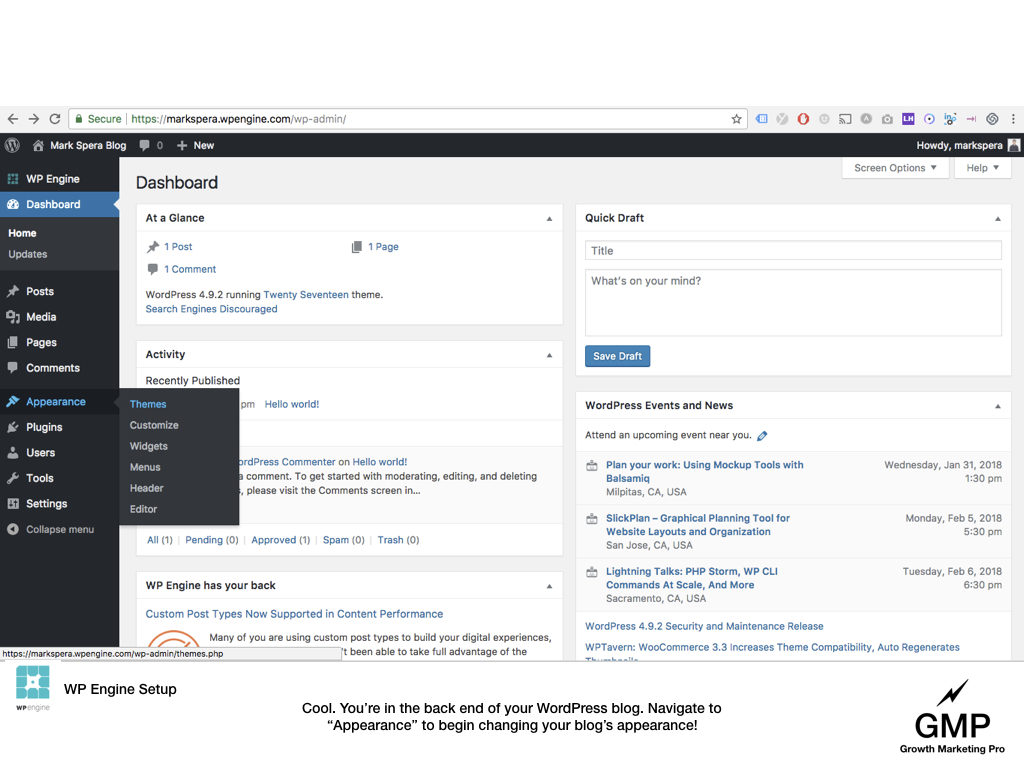 12. Click "Add New Theme" if you want to change themes from the default WordPress theme.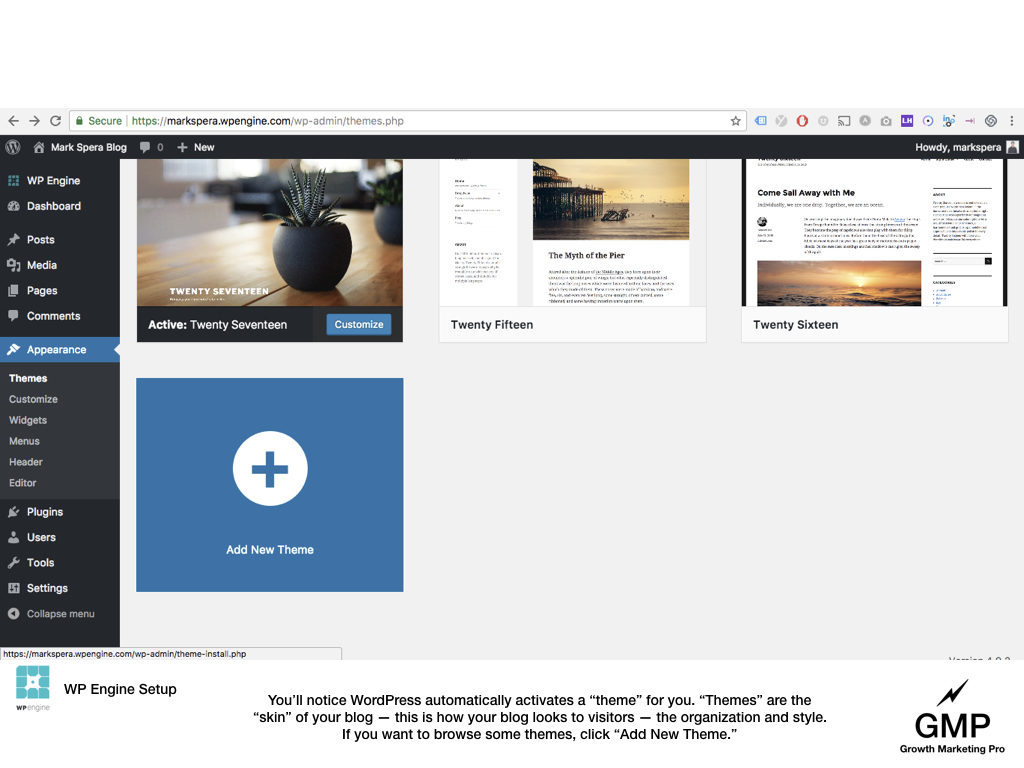 13. Click "Preview" to see a preview of a theme.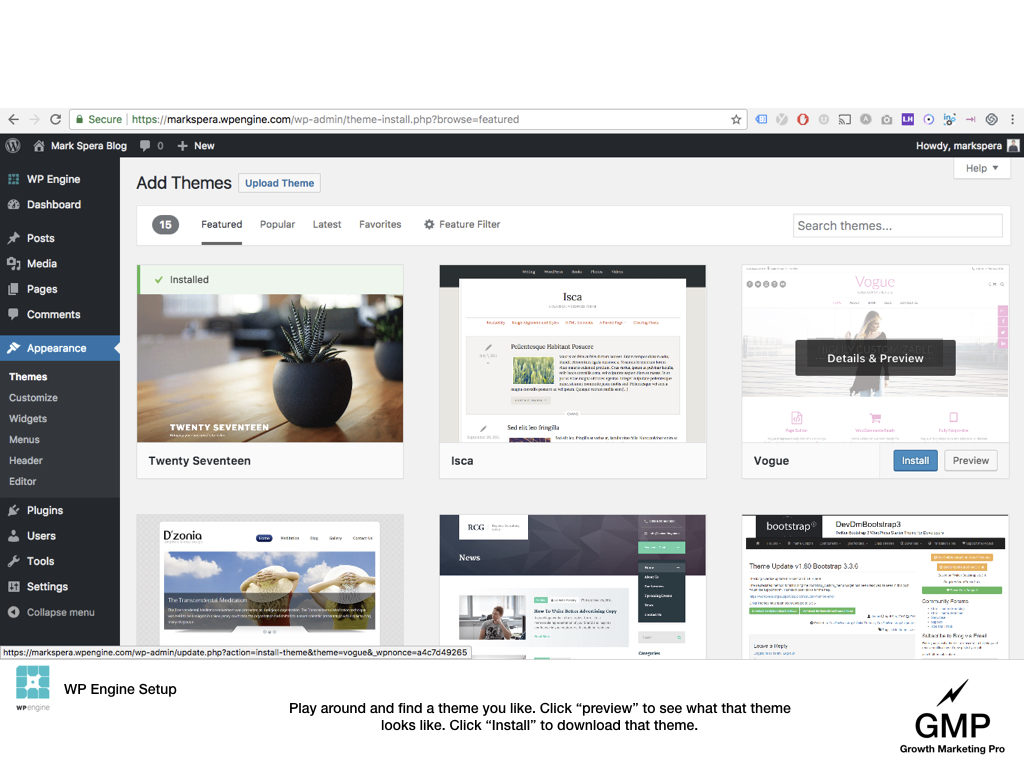 14. Click "Activate" to set it live on your WordPress blog.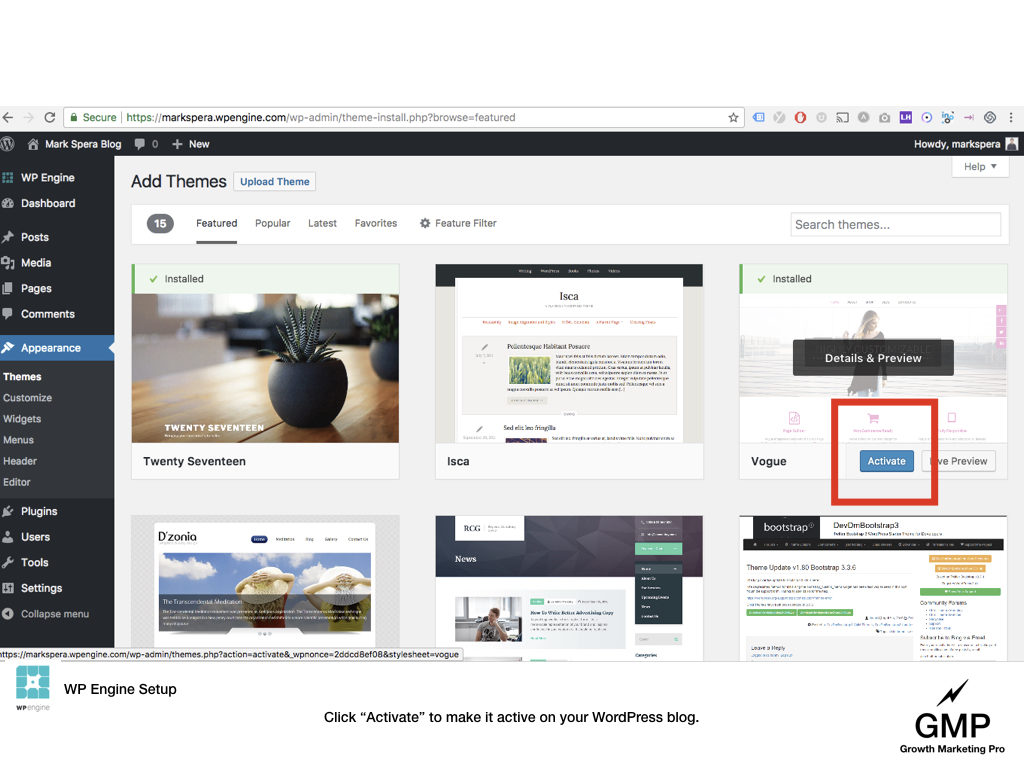 15. Voila. Begin playing around in your WordPress blog admin panel. Add "Posts," "Pages" and have fun with your new blog! FYI, your WordPress blog lives on the URL listed in your WP Engine dashboard. The blog I made in 9 minutes 31 seconds lives on markspera.wpengine.com. But again, note that I probably won't pay for the account for too long so that URL may not be active.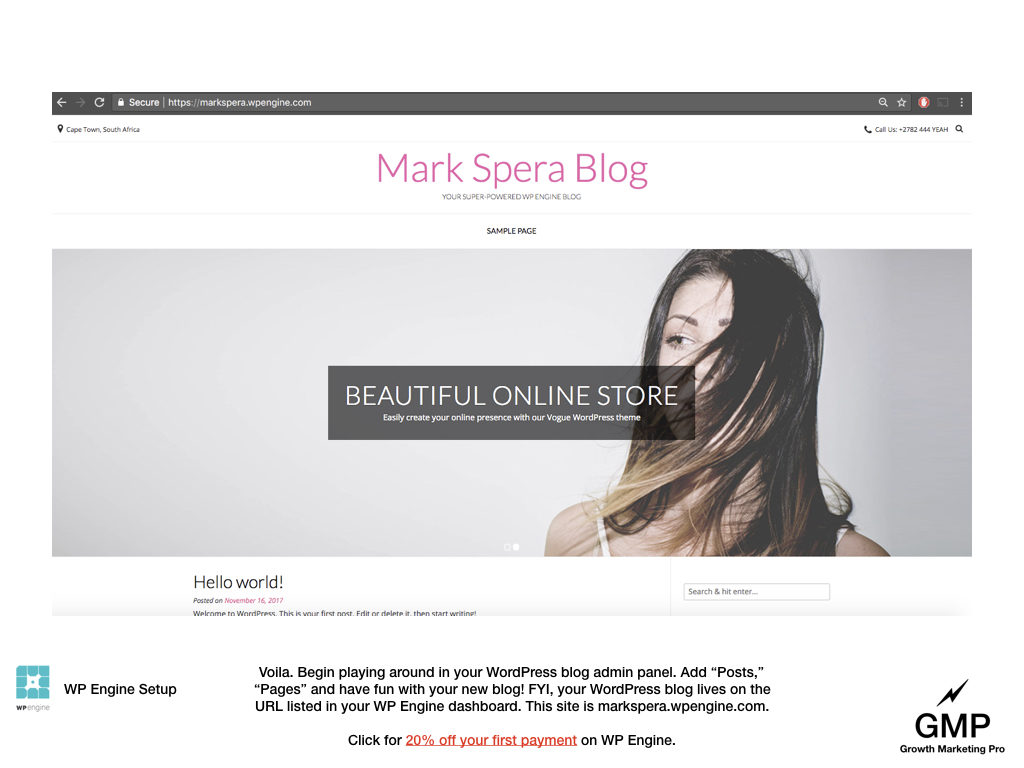 WP Engine Promo Code
Click here to get 20% off WP Engine.
I liked WP Engine enough to recommend it. I give it a 9/10 because of the tricky part in the middle of the registration flow.
But other than that, there's more than enough to recommend it: the price, easy set up, customer support and uptime.
If you've made your WordPress blog and you're ready to take it to the next level, Learn How to Monetize Your Blog!
Disclaimer: We occasionally link to products and earn fees. We only review products we trust. And we only trust about 10.