Growth Marketing Manager
at
RealtyShares
Cofounder @ GrowthMarketingPro.com
Latest posts by Hailey Friedman (see all)
There are blogging hobbyists and there are bloggers that make millions per year by selling products, advertising space and advice. 
Have you ever considered starting your own blog?
In March 2017, I started this very blog you're reading right now with friend and colleague Mark Spera. It's been a wild ride ever since and we're having a blast sharing our growth marketing tactics with the world.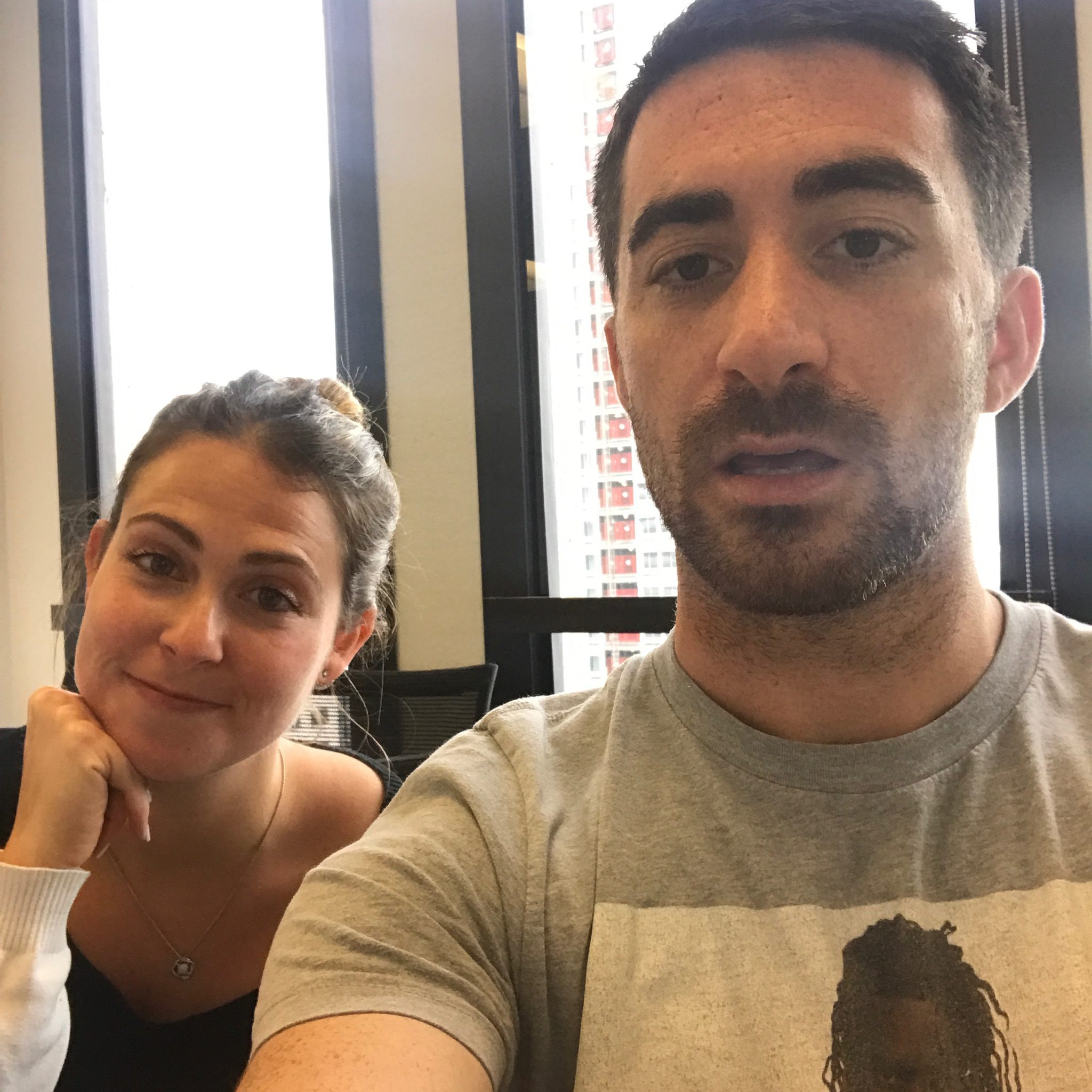 Why start your own blog?
If you have a niche perspective, there's a good chance you would have an engaged audience on the internet if you just started writing it down somewhere. It's possible amass a following in just a few months of consistent blogging.
You might start a blog for many reasons:
To build a personal brand
To drive traffic to your company website
To earn extra money by selling products, advertising space, advice, or through affiliate relationships.
To document your life
To share thought leadership
For fun, to showcase your writing
To build a community
What's the secret to blogging success?
The secret to blogging success is: high quality content, consistency and SEO optimization.
Click To Tweet
High quality content. Pick a topic, and then write content that is 10X better than anything else out there on the internet. That's the secret.

Think of Google as a host. When people visit Google, Google wants to make sure that visitor is having the best possible experience. When someone searches for something, they should find what they're looking for right away and much much more. Therefore, if you want Google to rank your content it better provide an incredible experience for anyone who lands on it. That includes anticipating all their possible questions and answering those questions.
Mark and I have been using this tactic to grow our blog GrowthMarketingPro.com, and as you can see by the growth of our organic traffic below– it's working.

Consistency. Keep your blog content fresh.

Google wants to see that your site is up and running. How often should you blog? Post at least once a week to show Google that your blog is active. The more content you put out there, the more likely Google is to rank some of it.

Optimize for SEO. Search engine optimization is what will ensure that you get organic traffic to your blog
While it is important to learn the technical details behind how to set up a blog (it's easier than you think!), this post will also walk you through the reasons why you should start a blog.
How to Start a Blog
Starting your blog will require you to take 6 easy steps
Step 1: Pick your domain (recommended platform: Bluehost)
Step 2: Pick your blogging platform (recommended: WordPress)
Step 3: Pick your web hosting platform (recommended platform: Bluehost)
Step 4: Design your blog
Step 5: Post your first blog post
Step 6: Monetize your blog
Step 1: Pick your domain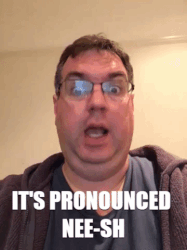 Before you go and pick your domain, you'll want to decide on a specific niche to blog about: something you know better than anyone else.
Why? 
You can't just start a blog with normal dieting tips because there are already thousands of them serving that market.
Instead, find a smaller audience within that market.
For example, you could start a blog with "dietary tips for people over 120 pounds" as your niche. My friend, Isabel started her blog, Stop Fighting Food, which is a blog all about eating mindfully — and she has quite a huge following.  
Here's where you can find some great information about choosing a niche for your blog.
A common misconception is that a niche market will not benefit you as much as aiming for the mainstream market– but that's far from the truth.
When you get traffic for a specific niche, those website visitors have much higher intent.
Click To Tweet
Here is a video of Chris Anderson explaining how long tail niche marketing is the new trend that businesses should follow. Chris Anderson coined the term "Long Tail", which explains that long tail keywords (keywords with 3 terms or more), which are used to target niche markets, are more beneficial for businesses than using keywords that target mainstream markets. 
Long-tail keywords are more specific and often less competitive than generic keyword terms.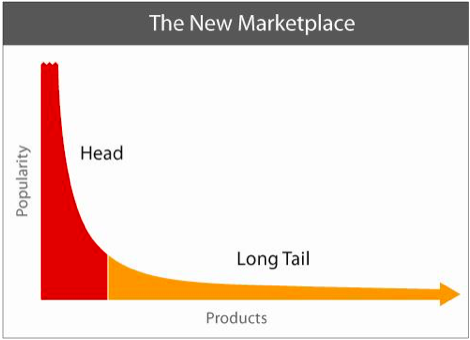 Pick a topic that you love.
You can only write at length and consistently about something that you're interested in.
Don't forget- you'll want to post new blog posts at least once a week, especially at the beginning. 
Ready to start your blog?
Now that you landed on a niche, it's time to think about your domain!
What's a domain? This is the URL of your website: www.blahblahblah.com, for example.
When I decided to start a blog about growth marketing, I spent a lot of time thinking about potential names for my domain.
When I landed on GrowthMarketingPro.com, I ended up purchasing my domain through Bluehost, which hit two birds with one stone since Bluehost is also one of the best web hosting companies out there (trust me on this– I researched them all!).
You can start your own blog with Bluehost for as low as $3.95 a month (get this low price through my link)! Also, if you sign up using my link, then you will get your domain for free.
This plan is the most seamless way to start your blog because Bluehost includes a free domain URL, 24/7 Support, AND also includes 1-Click WordPress Install.
That way, Bluehost lets you accomplish all the steps you need to get your blog up and running.
Click here to start the process.
For a step by step guide on how to set up your blog with Bluehost, click here.
Step 2: Pick your blogging platform
What is a blogging platform? This is where you will write all your blog posts, it will be the hub or archive of all your writings. When you're ready to publish a new blog post or edit an old one. This is also where you will design the look and feel of your blog.
Like I mentioned earlier, WordPress is the blogging platform I would recommend.
Here's is a video (part 1 & 2) of Mark showing us how to set up a WordPress blog:
Why WordPress?
It's easy to set up and use. You don't need to be super tech savvy or know how to code or use HTML or anything like that.
It's free!

With a free version of WordPress.org, you have access to nearly all the features of the blog– you can test out writing content– but you don't have your domain or hosting yet.

That's where Bluehost comes in. Luckily you can host your WordPress.org blog on Bluehost and it only costs $3.95 a month (includes a free domain!) if you use my link.
Customizable themes & templates. Designing your blog is easy since WordPress has the largest number of themes and templates available. In fact, some of the most famous blogs in the world have been built with minor tweaking of the available themes. Here is a

YouTube video

that explains how you can use a WordPress template and tweak it to your liking.
Plugins. What is a plugin you ask? A plugin is a piece of software that can be added onto your WordPress blog to increase it's functionality or to add a new feature. This is the key reason why I love WordPress more than any other blogging platform. You can customize it and add tools that can do incredible things. Many of the other blogging platforms may be easy to use, but they are far more limiting in their capabilities and you can't add plugins to them.

Want to know how to add a plugin to your WordPress blog? It's easy-

Sign in to your WordPress account.

Click "plug-ins" in the left sidebar, and then click "Add New."

Use the search bar on the top right-hand side to locate the plug-in you're looking for.

From there, you can install and activate the plug-in on your blog.

Each plugin comes with it's own description, screenshots and instructions for use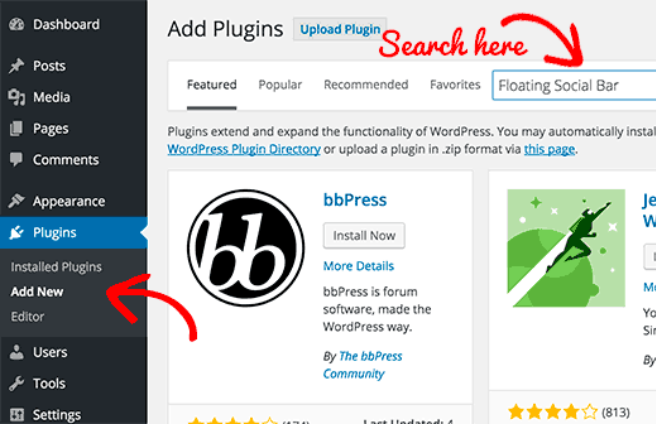 Compare the blogging platforms
If you don't believe me, feel free to compare all the blogging platforms in the chart below. Also, here's a list of the top 10 best blogging platforms. I spent the time researching all the options, so you can pick the one that's right for you…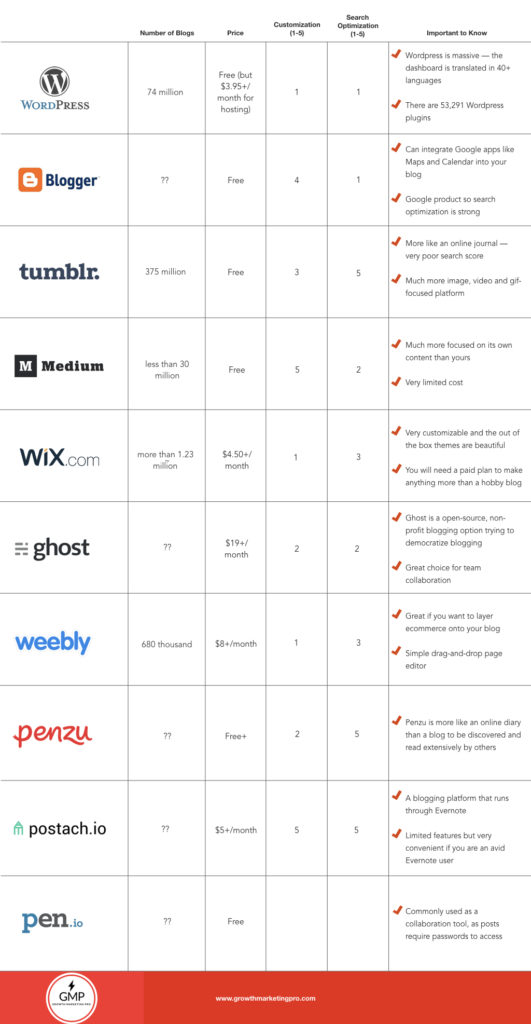 Step 3: Pick your web hosting platform
First off, what is a web hosting platform? A web hosting platform allows your website to appear on the internet. Web hosts "host" your blog on their servers where they can insure that your blog is connected to high speed internet and all the technical back end is set up correctly. 
There are a number of web hosting companies available, but you may want to choose your web host based on your blogging platform. If you have chosen WordPress as your blogging platform, the best hosting service they recommend is Bluehost.
The image below is from their site: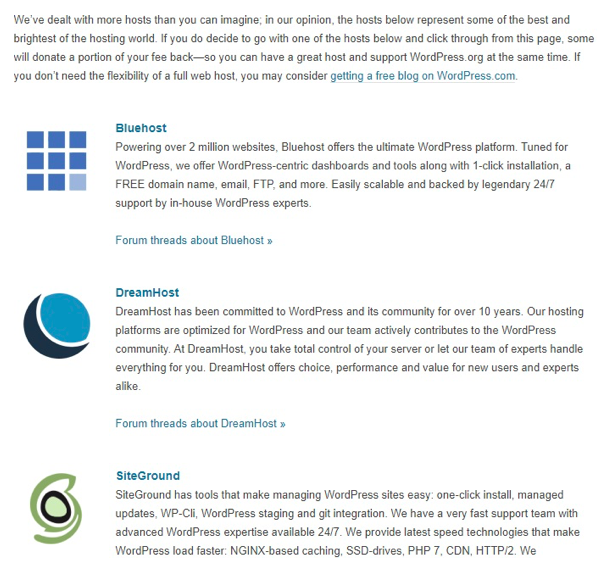 Bluehost is great because they provide a one-click installation of WordPress on their servers, and 24/7 support if you have questions along the set up process.
Here you can find a detailed comparison of some of the best web hosting services out there. Consider these things when selecting a web host:
Bandwidth: Bandwidth is the total amount of internet uploading and downloading limit available to you. All uploads and downloads to and from your website are subtracted from your total bandwidth. You have to choose the bandwidth based on the number of users visiting your website on a daily or monthly basis, and the type of content available on your website.
Storage: With your website, your host gives you some space on its hard drives. You can use this space to store every bit of content that's on your website. The storage should be enough to accommodate your website content today and for many months to come.
Uptime and Page Load Time: Page load time is the time it takes for your website to load. Uptime is how consistently your website is available. Most of the best hosting companies have their uptime as over 99.9%, so that's what you should be looking for. As for page load time, it has to be less than one second. Some of the best web hosting companies offer page load times of less than 0.5 second.

Here is a comparison of uptimes of the best web hosts. You can see even more detailed comparisons by visiting

this page

.

Price: We host pricing tends to be monthly with promotional prices that are only available when you sign a multiple-year contract.  Since BlueHost makes it to the top of the list of WordPress' recommended web hosts, here are their basic pricing plans.
Customer Support: Since web hosting is a service, you are relying on someone else for the performance of your website. When things go wrong, you cannot settle for anything less than perfect customer service. Take a look at customer reviews online to get an understanding of how each web host's customer service is.
Click here to compare all the web hosting platforms.
How to Set Up Your Blog
Now that you have your domain, your blog platform and your hosting service, you are ready to get started!
The first thing that you need to do after selecting your web host (Bluehost) and blogging platform (WordPress.org) is install your WordPress blog on your web host's panel. Once again, we will take the example of Bluehost and explain the steps of how you will install WordPress on Bluehost.
How to install WordPress on Bluehost
Sign into your Bluehost account.

From your dashboard, go into the website section and click on the option "install WordPress." Selecting this option takes you to "install" button. Click on it.

At this point, you will have to select the domain that you will be using for your blog.

Now, there is a field right beside the domain that you can leave blank or fill in by writing "blog."

Writing "blog" in that field creates a tab for a blog on your main website.

Leaving the field blank makes your blog your website, i.e., the main page is the blog.

Make any changes you want to make to your email address and login details if you want to.

Once done, checkmark the boxes to agree to the license terms.

Click on the option "install now," and you are done.
Here is a post we wrote on How to Start a WordPress Blog with Step-by-Step Instructions
Here is a YouTube video that also gives you a step-by-step instruction on how to install your blog on your BlueHost account.
Step 4: Design Your Blog
Congrats! You are past the "serious" and technical stage of setting up a blog, and now you're ready for the fun part.
Designing your blog is fun because you get to infuse your personality and creativity into it.
As mentioned earlier, the best way is to pick one of the themes available through WordPress. This is a great starting point because you can easily customize it to make the design your own. One thing to remember here is that you can install themes from third party websites as well. However, you will have to buy those themes, and they can cost you anywhere between $13 and $1200.
How to install a purchased theme on WordPress
If you are not using one of the available WordPress themes and want to use a third party theme, here are the steps you can follow. We are assuming that you have already chosen and downloaded theme on your computer. Once you have done that, here are the next steps.
Sign in to your WordPress account.

From the menu on the left-hand side of your dashboard, select "Appearance."

Now select "Themes."

Now select the option "add new".

Use the option "upload" located on the top right side of the page.

Browse the location on your computer where you have downloaded the theme.

Select the theme and upload it.
Here is a YouTube video that details the steps you have to follow to install a purchased theme. Be sure to unzip the theme file before you upload it because at times the theme file is in a zip folder and has to be extracted.
Step 5: Publish Your First Blog Post
At this point, you have selected your blogging platform, picked a web host and designed your blog—give yourself a pat on the back for getting this far!
Now, you have to show the world your real talent by writing your first blog post.
Let's take a look at the process of publishing your first post.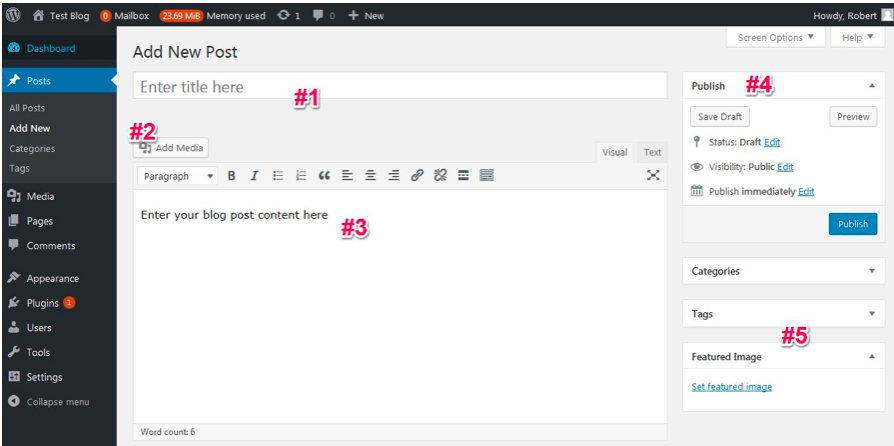 #1 is going to be the title of your post.
#2 is the media section where you can add any images, videos or gifs that are relevant to the content of your post.
#3 is the body of your post i.e. this is the post.
#4 is the section to publish your post or have it scheduled to be published later.
#5 is the part to add featured image and category of your post. You can also use tags to tell your visitors what topic the post is related to. Remember to always fill in the alt tag description of your image for SEO purposes.
Note: Tags are optional and there is nothing "seriously" wrong if you don't use them. 
So, the steps of publishing your first post are pretty easy. You sign into your WordPress account, select the "post" option from the left, give your post a title, write its body, add tags and publish it.
Here are some important tips to help you write your first post.
Don't write all at once. You have the "save draft" option on the top right. Keep drafting your post until you are fully satisfied with the content and so you don't lose anything if your internet disconnects.
Use the "preview" button to see how your post will look on your blog. This option really helps when you are adding media e.g. pictures, videos, etc. to your posts.
Communicate with your target audience. Make sure you don't try to make everyone happy. As mentioned earlier, you have to find your target audience before starting the blog, so you should know what type of people you are talking to. Give them a reason for coming back to your blog regularly.
Optimize for SEO. Download a plugin called Yoast to help keep your SEO on track. Don't forget to be strategic with your blog post- make sure you're writing a blog post that will rank for SEO– this guide will help.
Step 6: Monetize your blog
Did you know that there are people out there making tens of thousands of dollars every month from their blog?
There are many ways to make money from your blog. Learn about all the possible options and pick something that is a fit for you.
Here are a few ways people make money with their blog:
Sell your own products to your readers

Ebooks

Tools

Courses

Consulting

Sell other people's products through affiliate partnerships

When your readers click on links to affiliate products and make a purchase, you make some commission from those sales.

Advertising- allow companies to put ads on your blog and get paid for clicks
You can use Google AdSense to monetize your blog by allowing ad units to be displayed on your site.
Here are the steps to follow to make money from Google AdSense on your WordPress blog:
Create an account with Google AdSense. Here is the page to

sign up with Google AdSense

.

Wait for Google to approve your AdSense account.

Once the account has been approved, you have to create ads first and then add to your blog.
Follow these steps to create ads:
Sign into your AdSense account.

Select "My Ads" on the top.

Press "New Ad Unit".

Name your ad, give it a size and save it. (responsive setting is highly recommended)

Once you press "Save" you will get the code for the ad.

Copy the code and get ready to ad it to your blog.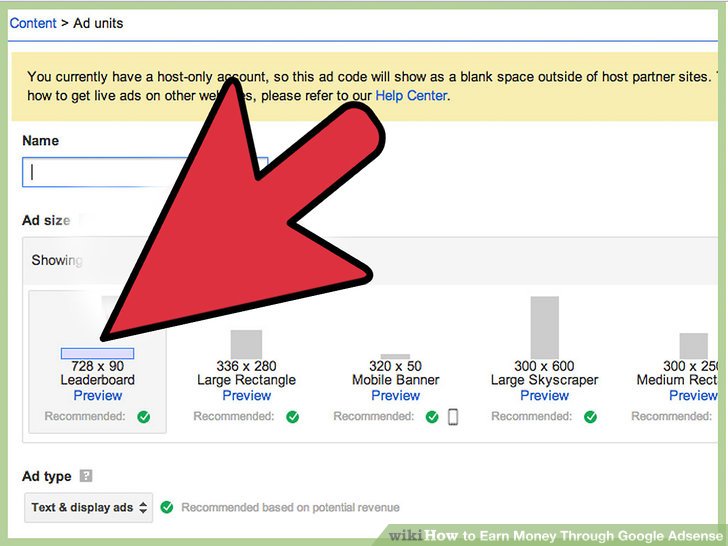 Adding an ad to your WordPress blog:
Sign into your WordPress account.

Go into "appearance".

Select "widgets".

Select text, location of the ad and click the "add widget" button.

Give a title to your widget and paste the AdSense code you had copied earlier.

Save and you are done.
Pros of Adsense
The good thing is that you can make money through these ads without much effort. Once you have added adsense to your blog, it's more like "set it and forget it".
Cons of Adsense
An important thing to keep in mind is that you will only be able to make money if there are enough people coming to your blog. While ads appearing on blogs are one of the most popular ways for bloggers to make money, they also happen to be one of the lower-paying methods. 
View the 7 best ways to monetize your blog.
Conclusion
Once you have started your blog, it is important that you write consistently. In fact, One of the biggest reasons why many blogs fail is because the authors don't post regularly. Click To Tweet
When it comes to writing, you want to be as natural as possible.
The more naturally you write the more appealing your content is for readers.
Lastly, consider guest blogging to get even more traffic to your blog.
A post on getting more traffic to your blog coming soon! Click here and I'll send it to you when it's ready.
>>>>>>Ready to start your blog? Click here to get started!<<<<<<
From our "How to Start a Blog" series please read:
Disclaimer: We occasionally link to products and earn fees. We only review products we trust. And we only trust about 10.